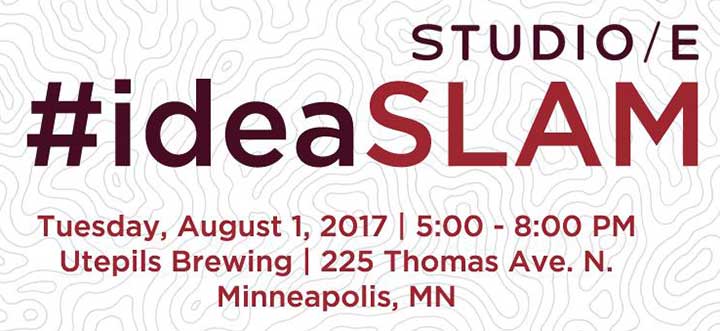 Announcing our first-ever public event, the Studio/E #ideaSLAM!
Throughout the seven years Studio/E has been around, our tribe of members have come up with some seriously impressive ideas. This community has passed legislation, created new products, built businesses from the ground up, launched global divisions in multi-national corporations -- and a whole lot more. We are really proud of our members and we want to spend an evening celebrating their successes.
Please join us for the first-ever Studio/E #ideaSLAM on Tuesday, August 1, 2017 at Utepils Brewing Co.
At the #ideaSLAM we will:
Hear idea pitches from five members, followed by a Q&A;
See the application of Studio/E methodology and tools first-hand;
Mingle with Studio/E's diverse tribe of members.
______________________________________________________________________
If you are not a Studio/E member, this is a great opportunity to see what our membership program is all about. You will be able to meet many of our incredible members and hear five different stories about what it took to successfully launch an idea. Whether you've been sitting on an idea for years or you're a seasoned idea producer, we invite you to join us for this fun event.
______________________________________________________________________
Featured Members:
Anne Spaeth | The Lynhall (thelynhall.com)
Jackie Colburn | Design Sprints (www.jackiecolburn.com)
Norm Domholt | BlackDog Robotics (www.blackdogrobotics.com)
Molly Mogren Katt | Namakan Fur (www.namakanfur.com)
Vikas Narula | Keyhubs (www.keyhubs.com)
______________________________________________________________________
Get your tickets here: http://bit.ly/2ta7dl0