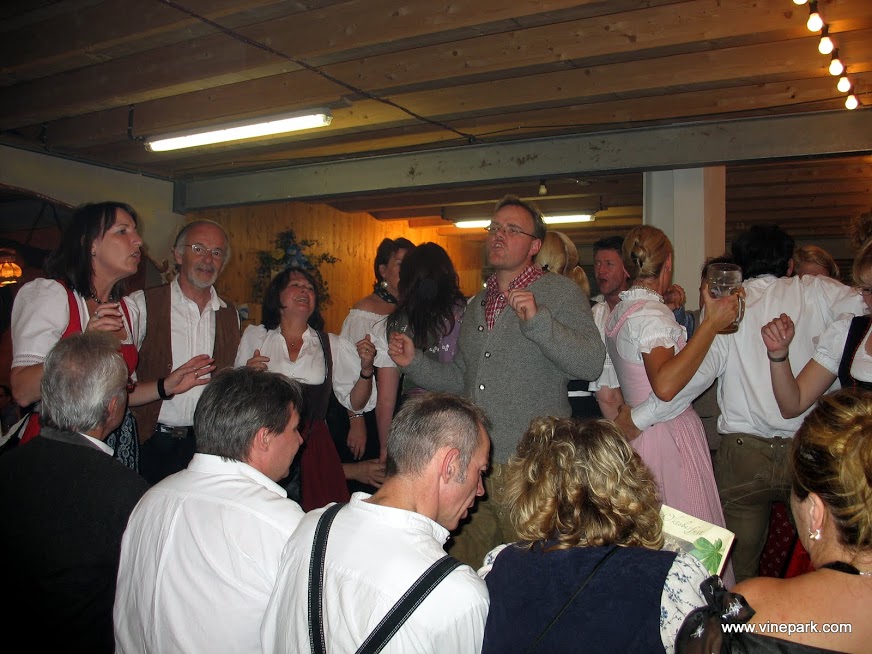 "I'm on the highway to hell, …"
One of the best parts of traveling is upended expectations. For me, it seems to happen with every trip to somewhere new. Perhaps that says more about me than the destination.
As a native Minnesotan, I had been to many local Oktoberfest events as I'm sure you have, too.  A few odd characters in Bavarian outfits, large steins of imported beer, and an oompah band playing polka are the key aspects of those experiences.
Our First Trip to Munich, Germany
Memories of Munich's Oktoberfest can be hazy—large steins of German beer are still a key aspect of the original O'fest. Upon arriving in Munich, Deb and I decided on our first night to just have a nice dinner and walk around to help reset our jet lag and visit O'fest during the next two days. As we left dinner, our stroll took us near the Festwiese or Fest grounds. Like moths to a flame, we couldn't resist.
Being almost closing time, the crowds were headed away, and we rationalized that we might take a peek and maybe, just maybe, find a seat in a tent. Upon entering the first tent we came upon, the band immediately struck up AC/DC's "Highway to Hell" and five thousand inebriated world travelers and Germans on benches sang along in English at the top of their lungs. We joined in.  I can't hear that song now without flashing back to that moment.
Oktoberfest in America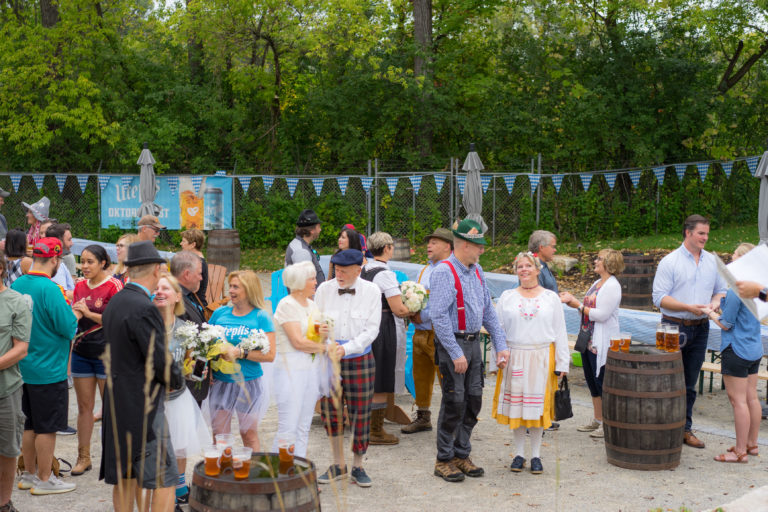 Oktoberfest in the USA is stuck in the time warp (again…sorry could not help myself. Young people, Google it.). The great migration of Germans peaked in the 1920s, and they brought their customs with them. They recreated their fests and holidays as they remembered them. In Germany, change rolled right along. It's a musically diverse giant drinking fest. Sure, while you hear old songs sprinkled in, it's primarily sing-along songs. And you'd better know the lyrics to John Denver's "Country Roads" if you want to fit in.
It's the same with the beer! American brewers mostly create Oktoberfest beers in the Marzen style as that was the trend before the 1920s. We created our Oktoberfest beer, Receptional, as the modern Festbier style that is still served in the big tents since the early 1920s; lighter in color and alcohol, it's more subtly smooth and easier to drink in those very large steins—thus helping beer sales.
And what's with that name and design of Receptional? 
Well, what's the reason for Oktoberfest? Most Americans will say "ahh, I don't know…harvest festival? Nope! 
The Real Reason for Oktoberfest
Oktoberfest is the annual recreation of the wedding reception of Prince Ludwig of Bavaria and his bride, Therese of Saxe-Hildburghausen. So, it's not just a drinking party; it's better. It's a wild drinking wedding reception. And thus, our exceptional Receptional Festbier!
And this leads to my favorite memories of Oktoberfest at Utepils. No, it's not the formal ceremony of our Brewmaster tapping the 1st keg. No, it's not the crazy stein holding contests. It's not even wearing my lederhosen all day.
Before we hold steins, before we tap the keg, we honor the reason.  
Each year we offer couples a chance to say "I'd do it again." Thirty to fifty couples of all races, ages, denominations, and orientations arrive early to our Beer Garden and renew their vows to each other.  Contrary to our fears and some expectations, this has been a beautiful and memorable event for all who participate and for those who bear witness. I suspect there are few dry eyes in the Beer Garden by the end. And then we tap the keg and celebrate.
The best memories are the surprises that delight.
Enjoy Some Exceptional Receptional Festbier
Delight yourself with our Receptional Festbier in liquor stores near you now and on draft in our Taproom & Beer Garden! Here for only a short time and time flies!  
Mark your calendar for the Utepils Oktoberfest on September 19th (reservations are available now). Vow renewal, big steins of beer, wearing your lederhosen & dirndls, lots of live music are back.  
Just no clinking of glassware or swaying in long rows of new friends; we're committed to having a fun and safe Oktoberfest. Limited reservations available – book by September 12th.