Guests can expect cleaner, filtered air thanks to the recent installment of an advanced air purification technology, engineered by Global Plasma Solutions (GPS). In an ongoing effort to keep patrons and staff protected from the spread of COVID-19, we have invested in GPS's patented NPBI technology that works to clean air, break down viruses, mold, bacteria, and thus prevent the spread of pathogens—all within the Taproom's HVAC system. 
"We're going the extra mile to ensure everyone who visits our brewery can sit back, relax, and enjoy their time with us, without worrying about getting sick," said Dan Justesen, Founder of Utepils. "We're taking every precaution possible to keep our friends, family, staff and community safer by wearing facial masks, implementing sanitization stations, ramping up our cleaning routine, and social distancing, but this is an added measure that we feel strongly about. We want everyone who visits our Taproom to have access to cleaner, purified air."
Following suit with highly frequented institutions across the country, including airports and hospitals, we made the decision to invest in GPS's air purifying technology to help improve air quality and create a safer experience for visiting guests and staff. 
The technology works by releasing ions into the air that weaken harmful substances: "The patented technology uses an electronic charge to create a plasma field filled with a high concentration of [positive] and [negative] ions...The ions kill pathogens by robbing them of life-sustaining hydrogen (from the GPS website).
The non-invasive, purifying technology allows ions to filter the air from our building's HVAC system in order to clean both large and smaller spaces without disturbing the experience of patrons of staff or guests. 
"It's hard to have fun if you don't feel safe.  We feel this is a smart investment, as it provides an extra layer of protection and comfort for our favorite brewery goers," continued Justesen. "We want people to feel confident about leaving the house to visit their friends and enjoy a fresh beer at our establishment. And we will continue to invest in ways that protect our community and keep our guests and staff healthy!"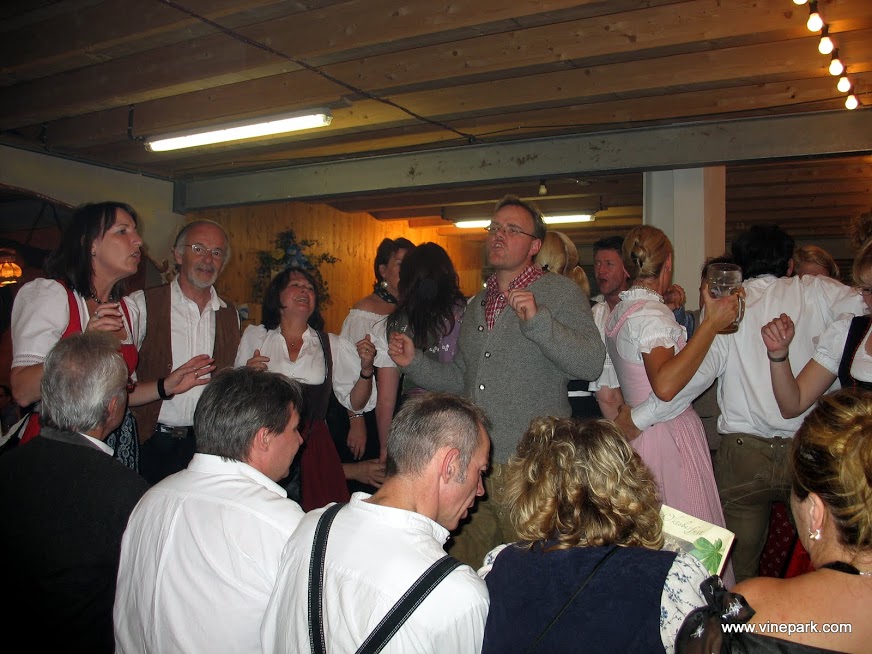 "I'm on the highway to hell, …"
One of the best parts of traveling is upended expectations. For me, it seems to happen with every trip to somewhere new. Perhaps that says more about me than the destination.
As a native Minnesotan, I had been to many local Oktoberfest events as I'm sure you have, too.  A few odd characters in Bavarian outfits, large steins of imported beer, and an oompah band playing polka are the key aspects of those experiences.
Our First Trip to Munich, Germany
Memories of Munich's Oktoberfest can be hazy—large steins of German beer are still a key aspect of the original O'fest. Upon arriving in Munich, Deb and I decided on our first night to just have a nice dinner and walk around to help reset our jet lag and visit O'fest during the next two days. As we left dinner, our stroll took us near the Festwiese or Fest grounds. Like moths to a flame, we couldn't resist.
Being almost closing time, the crowds were headed away, and we rationalized that we might take a peek and maybe, just maybe, find a seat in a tent. Upon entering the first tent we came upon, the band immediately struck up AC/DC's "Highway to Hell" and five thousand inebriated world travelers and Germans on benches sang along in English at the top of their lungs. We joined in.  I can't hear that song now without flashing back to that moment.
Oktoberfest in America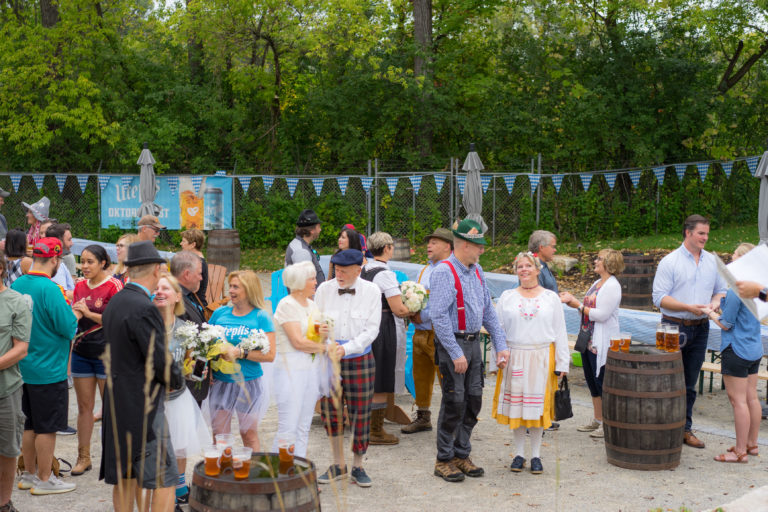 Oktoberfest in the USA is stuck in the time warp (again…sorry could not help myself. Young people, Google it.). The great migration of Germans peaked in the 1920s, and they brought their customs with them. They recreated their fests and holidays as they remembered them. In Germany, change rolled right along. It's a musically diverse giant drinking fest. Sure, while you hear old songs sprinkled in, it's primarily sing-along songs. And you'd better know the lyrics to John Denver's "Country Roads" if you want to fit in.
It's the same with the beer! American brewers mostly create Oktoberfest beers in the Marzen style as that was the trend before the 1920s. We created our Oktoberfest beer, Receptional, as the modern Festbier style that is still served in the big tents since the early 1920s; lighter in color and alcohol, it's more subtly smooth and easier to drink in those very large steins—thus helping beer sales.
And what's with that name and design of Receptional? 
Well, what's the reason for Oktoberfest? Most Americans will say "ahh, I don't know…harvest festival? Nope! 
The Real Reason for Oktoberfest
Oktoberfest is the annual recreation of the wedding reception of Prince Ludwig of Bavaria and his bride, Therese of Saxe-Hildburghausen. So, it's not just a drinking party; it's better. It's a wild drinking wedding reception. And thus, our exceptional Receptional Festbier!
And this leads to my favorite memories of Oktoberfest at Utepils. No, it's not the formal ceremony of our Brewmaster tapping the 1st keg. No, it's not the crazy stein holding contests. It's not even wearing my lederhosen all day.
Before we hold steins, before we tap the keg, we honor the reason.  
Each year we offer couples a chance to say "I'd do it again." Thirty to fifty couples of all races, ages, denominations, and orientations arrive early to our Beer Garden and renew their vows to each other.  Contrary to our fears and some expectations, this has been a beautiful and memorable event for all who participate and for those who bear witness. I suspect there are few dry eyes in the Beer Garden by the end. And then we tap the keg and celebrate.
The best memories are the surprises that delight.
Enjoy Some Exceptional Receptional Festbier
Delight yourself with our Receptional Festbier in liquor stores near you now and on draft in our Taproom & Beer Garden! Here for only a short time and time flies!  
Mark your calendar for the Utepils Oktoberfest on September 19th (reservations are available now). Vow renewal, big steins of beer, wearing your lederhosen & dirndls, lots of live music are back.  
Just no clinking of glassware or swaying in long rows of new friends; we're committed to having a fun and safe Oktoberfest. Limited reservations available – book by September 12th. 
European-inspired brewery, Utepils Brewing and Cowboy Jack's Saloon and Restaurant are pleased to announce their partnership to create a new Jack's IPA recipe. Beginning Monday, January 6, 2020, patrons can enjoy a fresh pint of Jack's IPA at Utepils Brewing taproom and all participating Cowboy Jack's locations in Minnesota. 
To kick off the New Year and new collaboration, Utepils will be hosting a launch party on Wednesday, January 8, 2020 at "The Barn," located at the Cowboy Jack's Downtown Minneapolis at 126 N. 5th St, Minneapolis, MN 55403 from 6-10pm. As part of the special celebration, there will be an Utepils tap takeover, allowing guests to enjoy the new Jack's IPA, as well as other classic beers the local brewery is known for. 
Northland Vodka will also be in attendance with their new product that will hit Cowboy Jack's Saloon and Restaurant locations on January 6, 2020, as well. 
In addition, to help top off the night's celebration, there will be a special live performance by "Fookey". This heavy metal band consists of Chris Hawkey, Mark Parrish, and Pete Bercich, as well as other musicians.
To enjoy all the fun and excitement this special launch party has to offer, patrons must first win tickets. All tickets will be given away through the following social channels: Cowboy Jack's, Utepils Brewing, and Northland Vodka. Guests can also win tickets by listening to KFAN 100.3FM. To win VIP tickets to the launch party, guests are encouraged to listen to The Power Trip Morning Show from 5:30-9 a.m. Monday through Friday.
Utepils Brewing and iHeartMedia Minneapolis's FM 100.3 KFAN, The Twin Cities Sports Leader, have teamed up to launch KFAN Unfiltered Blonde Ale, a European-style beer made in honor of Minnesota sports fans. The new beer will make its debut on Friday, September 13.
In conjunction with the beer launch, Utepils Brewing invites patrons to visit the brewery on September 13 to try KFAN Unfiltered Blonde Ale. The new beer provides listeners and fans with a careful balance of soft malt and light bitterness as well as a rich unfiltered flavor for friends to sip and enjoy as they discuss sports stats and predict which teams will make the playoffs.
"There's nothing better than bringing together award-winning, European-style beer along with award-winning sports radio to kick off the football season and create the ultimate fan experience," said Dan Justesen, Founder of Utepils. "We're starting a new tradition with Unfiltered Blonde Ale that's perfect for every season, no matter which team you're cheering for."
"KFAN has some of the most passionate and loyal listeners in the country," said Chad Abbott, Program Director for 100.3 KFAN. "Utepils Brewing has that same connection with their customers, so combining these strong brands to provide a true 'Rube Brew' is a great way to bring those passionate fans together."
We are thrilled to announce that B.R.D has been named one of Minnesota's best beers right now by MPR News!
Andrew Schmitt, a Minnesota BeerCast host said, "My favorite beer right now is B.R.D. from Utepils. A crisp, easy drinking traditional pale German lager that is perfect for ushering warmer weather. The beer is a welcome and 10% of the proceeds go to programs that support Minnesota veterans and their families who are homeless or at risk of becoming homeless."
Read the full article here: Minnesota's best beers right now, ranked by local brew experts
image via MPR
Utepils sat down with Minnesota Beer Cast to talk about the release of our new beer B.R.D. Listen to the podcast here or subscribe to the podcast via Apple or Android Podcasts.
Jordan's education in Chemical Engineering and previous experience in brewing gives her an edge when it comes to beer, and she's here to make sure the chemistry between you and Utepils' beer is just right. Her hobbies, like her work life, include a little of everything – hiking, traveling, being outdoors, and generally enjoying the Minnesotan lifestyle. Besides the obvious perks of working for a brewery, Jordan likes the supportive coworkers and the opportunity to learn new things. And she can't decide what she likes more: the relaxed atmosphere and people at Utepils, or their beer.