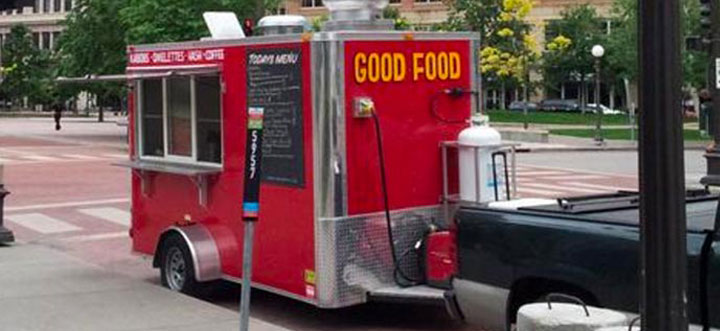 About Kabomelette
Kabob + Omelette = Kabomelette
Joining the growing food truck scene in 2011, Kabomelette began in a tent at Minneapolis' Midtown Farmers Market. where Chef Greg Miller and partner Chelsea Miller served breakfast to enthusiastic (and very hungry!) crowds. Soon thereafter, they purchased their signature sporty red trailer, expanding to festivals, offering a healthy, gluten-free, and convenient alternative to the customary fried-anything-on-a-stick. They combined their popular omelettes with tasty steak kabobs, added a side of potatoes, and voila! Kabomelette was born.
Greg has a degree in culinary arts, but his expertise and passion for delicious food are the result of over fifteen years' kitchen experience, ranging from preschool cooking classes to gourmet catering. After working in kitchens large (over 70 staff) and small, he pursued his dream and started Kabomelette.
Having worked in fundraising and social work, Chelsea's talents are now being put to use serving customers and managing the "non-foodie" aspects of Kabomelette. She enjoys working with all of the customers from brides to festival organizers. Her claim to fame is to keep the planning process simple and to the point! She does not like to keep people waiting.