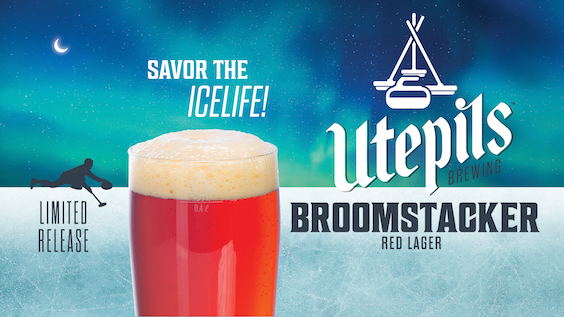 Curlers know it's more than just a game. Under an old tradition, curlers stack their brooms, pause the action, and go have a beer with their opponent. Broomstacker Red Lager was brewed to continue this tradition and begin a new one. Throwing stones and stacking brooms or not, grab a snowbank with a friend and Savor the Icelife.
Join us on Saturday, Oct. 27th from 5-11pm to get your first taste of the newest member of the Utepils lineup: Broomstacker Red Lager.
Have the most fun:
Dress in your Minnesota Winter costumes to be entered into a raffle for prizes.
Too scared to dress up? Bring in two pieces of non-perishable food items to be entered into the raffle.
Scary movies playing all night.
Sporadic monster mash dance party.
Dinner from Full Belly Happy Heart.
Candy instead of dinner.
...and more!
Kiddos are welcome until 9pm. Sorry, no pets please!