We kept tabs on Utepils owners, staff, and fans as they visited Prague and the surrounding areas to gather up inspiration for a new, limited-run beer style. This is the final installment in the series. We hope you've enjoyed following along!
We left you with a minor cliff-hanger last time—some of us were headed out into the wilds of the Czech Republic to track down a small craft brewery and microdistillery.
We lived to tell the tale. And here is that tale: The group piled into various taxis and Ubers and arrived at our destination at wildly different times, leaving us to ponder over the drivers' "creative" route selections. The first on the scene didn't seem too worried about their fellow travelers; indeed, they spent the extra time pulling weeds to feed to the goats that were present on the complex. It turned out that this brewery/distillery was also a hotel, spa, golf course, and farm. We posed cans of Utepils beer with the goats. The goats were underage, so alas, they could not partake.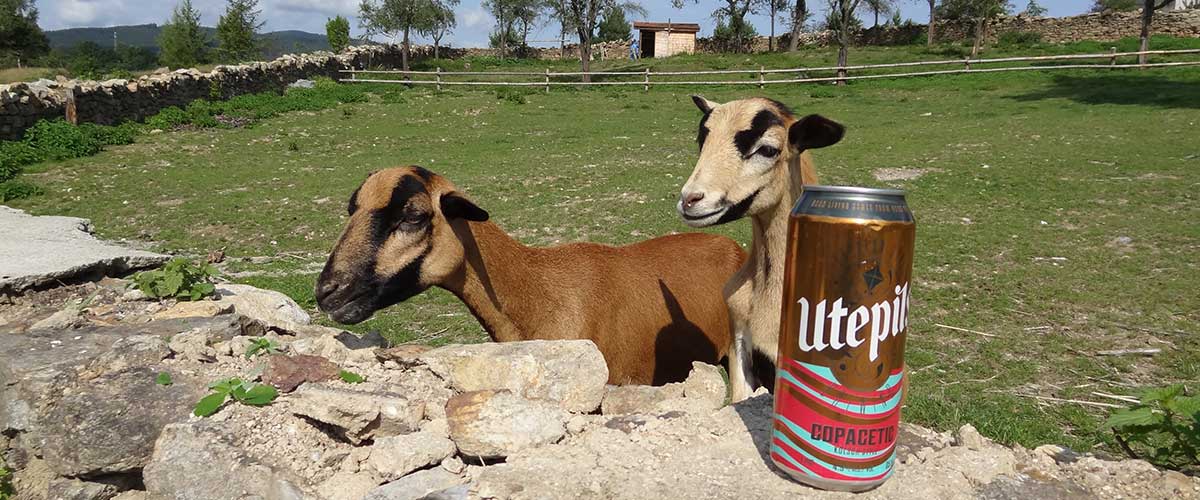 With everyone finally present and goats fed, we arranged a tour of the brewery and were promptly provided with samples of delicious beers. We met the brewmaster, Martin Hrubes of Svachovka. (http://en.svachovka.cz/).  Invoking an old European tradition of trading sports jerseys and extending it to breweries, Martin and Dan swapped logo jackets.
Hrubes's brewery/distillery project is relatively new, so we were eager to compare notes with our own experience as a new brewery. We had a great conversation spiked with generous samplings of finished beers, beers still fermenting, and a new variation growing in popularity in the region called "milche." Milche entails pouring the beer to intentionally create a mug of mostly foam/head that looks like milk in the glass. Incredibly, it sells for more than an actual glass of beer with normal foam/head on it yet contains much less actual beer. Dan was left pondering the question if that could catch on back in Minnesota…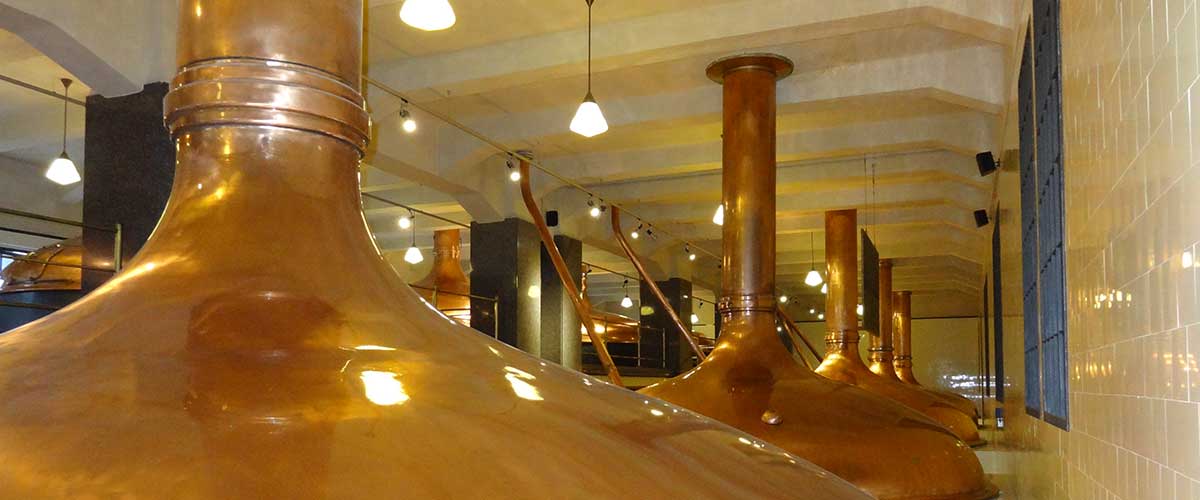 After our tour we enjoyed a delightful and very inexpensive lunch and then departed, many of us clutching bottles of their distilled spirits to bring back to the USA. Returning to Cesky Krumlov, we split into small groups to continue our explorations and seek out adventure. Many people seized the opportunity to pose Ewald cans and other Utepils-branded items for pictures around town.
While we split up initially, the geography of such a small town meant that we bumped into each other with regularity. Several people joined together to find Two Marys, a place that Dan and Deb discovered 11 years ago and had pledged to revisit. They couldn't remember the name, but knew it had a tiny entry off an alley, and the hunt was part of the fun. The steaming hot nightcaps of mead along the river lite by the castle above sealed the deal.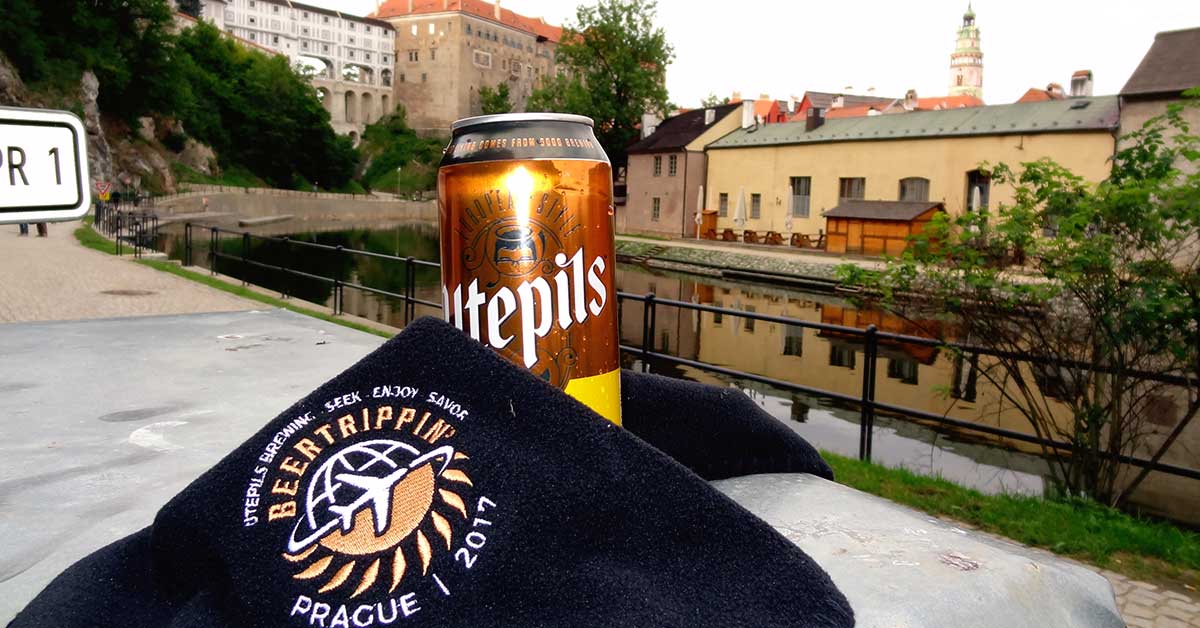 Finally, inevitably, the trip had to draw to a close. The next day we stuffed ourselves, our luggage, and our accumulated shopping in small taxis to return to our coach, which was still parked outside of town. We headed north to Prague and our farewell dinner.
Of course, we wanted to get as much out of the trip as possible so we made a couple of stops along the way. The first stop was the Zvikov Castle. At almost 1000 years old, the abandoned castle was never conquered. It overlooks the confluence of two large rivers and is now a public park. We hiked the river trail and arrived in the middle of a wedding, so we were able to enjoy the wedding musicians while exploring the ruins.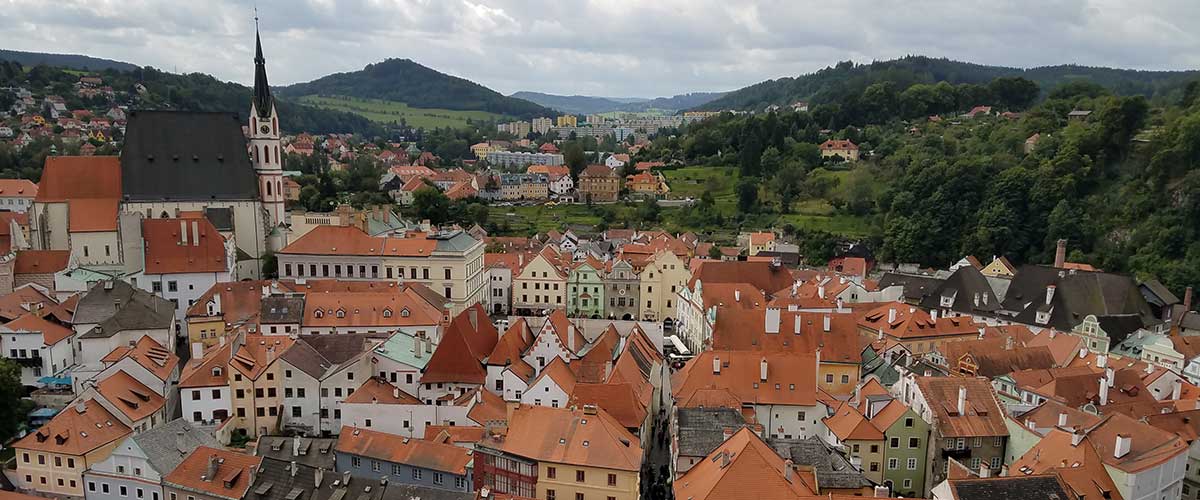 Hiking and castle exploring bring hunger and thirst. Luckily for us, there was a craft brewery nearby called Zvikov. (A nearby craft brewery? Convenient! You'd almost think there was a plan…)
Lucky for us, not only was the food and drink excellent at Zvikov, the owner Josef Valenta was there and spoke excellent English.  We engaged in a lively, spontaneous discussion of Czech beer styles and the changing brewing industry.
After some souvenir shopping, we piled back in the coach to enjoy the scenic drive up the river valley to Prague.
After checking into our last hotel, we had about three hours of free time before meeting at the Strahov Monastery for our farewell dinner. (Don't worry, the Monastery has a brewery.)
Way back at the beginning of the trip, Dan and Deb gifted everyone with a travel scarf to carry in case of cold weather, which never occurred.  As we arrived, everyone else pulled out their scarves to wear.  It made Dan and Deb laugh and feel appreciated that they had all schemed to surprise us.
We capped off the trip with a long evening celebrating friendships both old and new, sharing laughs, stories, toasts, hugs, and promises to stay in touch.
There are more stories, of course. (Next time you're in the Utepils Fernweh Taproom, ask what happened with the people in the elevator.)
The trip was a great success. We're full of inspiration and memories. Want to come along next time? We'll be announcing our 2018 Beer Trippin' very soon.
See more pictures and posts about the 2017 trip here