With the holidays fast approaching and your gift lists ever growing, what better way to get your mind off the yuletide chaos than with an update on the design of our tap room?! Here at Utepils Brewing, we believe that making beer is only part of the job of a craft brewery; because what good is great beer if you don't have anywhere to enjoy it? Blending historic European design influences with our local Minnesota roots, our Fernweh Taproom will be a spot where family and friends can share beers together no matter how cold the weather gets. But that's enough hype… you want the details:
From Düsseldorf to Theodore Wirth
Hanging above the bar and visible throughout our brewery, this jaw-dropping copper top will serve as our taproom's focal point! This stunning piece of German brewing tradition was originally used in the Im Füchschen brewery in Düsseldorf – a brewery with a captivating history that dates back nearly four centuries.
Im Füchschen began brewing beer in 1640, specializing in producing a Copper-colored ale with a firm creamy head and a clean dry finish. During the 1800s, smoother lager styled beers rose in popularity throughout Germany and many breweries shifted focus towards this new trend. Im Füchschen took a different course and stayed true to its heritage by continuing to brew their older style of ale that came to be known as altbier (translation: "old beer"). The Im Füchschen brewing tradition has survived hundreds of years and two World Wars and you can still enjoy their altbier to this day.
A Lauter Grant From the Other Side of the Pond
Another historic piece of our taproom will be this European lauter grant. What's a lauter grant you ask? A lauter grant is one of the most useful tools in the brewing process as it offers brewers valuable information about runoff quality and provides a buffer between the grain and wort. However, we have another purpose in mind for ours. Even though it looks a little rough now, we plan on refurbishing it into a stein rinsing station, so VIPers and other customers can clean out their mugs after sharing beers in our taproom. Historic, beautiful, AND sanitary!
A Piece of Minnesota Craft Beer History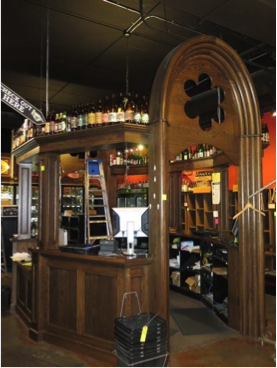 Earlier this year, a pioneering business in Twin Cities craft brewing was forced to close its doors for good. Opening in 2008, Four Firkins in St. Louis Park was one of the first stores in the state to exclusively sell craft brews from around Minnesota and the nation. For Minnesota craft beer lovers, Four Firkins was holy ground and its closing was like saying goodbye to a best friend.
We here at Utepils Brewing couldn't just let this tradition in Minnesota craft brewing die, so we're going to keep it alive. Earlier this summer, our team disassembled the gorgeous Abbey-styled bar that had stood in Four Firkins since its opening. This oak marvel is a woodworker's masterpiece and an icon for craft beer lovers throughout the Twin Cities. Currently being housed in a super secret safe hiding space, we are planning to incorporate this wonderful piece into an event center that is currently still in discussion. The original designer has even agreed to assemble it so we don't break anything. How cool is that?!
This Year, Give the Gift of Free Beer
From the altbier capital of the world to St. Louis Park, our Fernweh Taproom will blend craft brewing traditions from around the globe. As this is the season of giving, why not give your craft beer lover the chance to leave their mark in our taproom as well? The Utepils Brewing VIPer program makes a perfect gift and helps to fund the design of our taproom. VIPers enjoy many unique perks including their name on an original art installation in our taproom and a whole bunch of free beer! Instead of guessing what your significant other wants this year, take advantage of special holiday pricing on the Committed Couple VIPer and enjoy it all together!
For those frugal gift shoppers, our Sip 'n Pay plan is right for you. From now until December 31, 2015, we are offering a limited time offer payment plan: $99 per month for 11 months. Start using your perks when the taproom opens this spring and pay off your balance at a smoother pace.
Once you've got your VIPer secured, tell all your friends about it! For every VIPer purchase you refer, you'll receive a $99 Utepils Gift Card. Refer 10 people and the cost of your VIPER is repaid in cool beer swag and merchandise from the taproom. When it comes to free beer and awesome craft brewery swag, you can't do any better than the Utepils Brewing VIPer program this season!