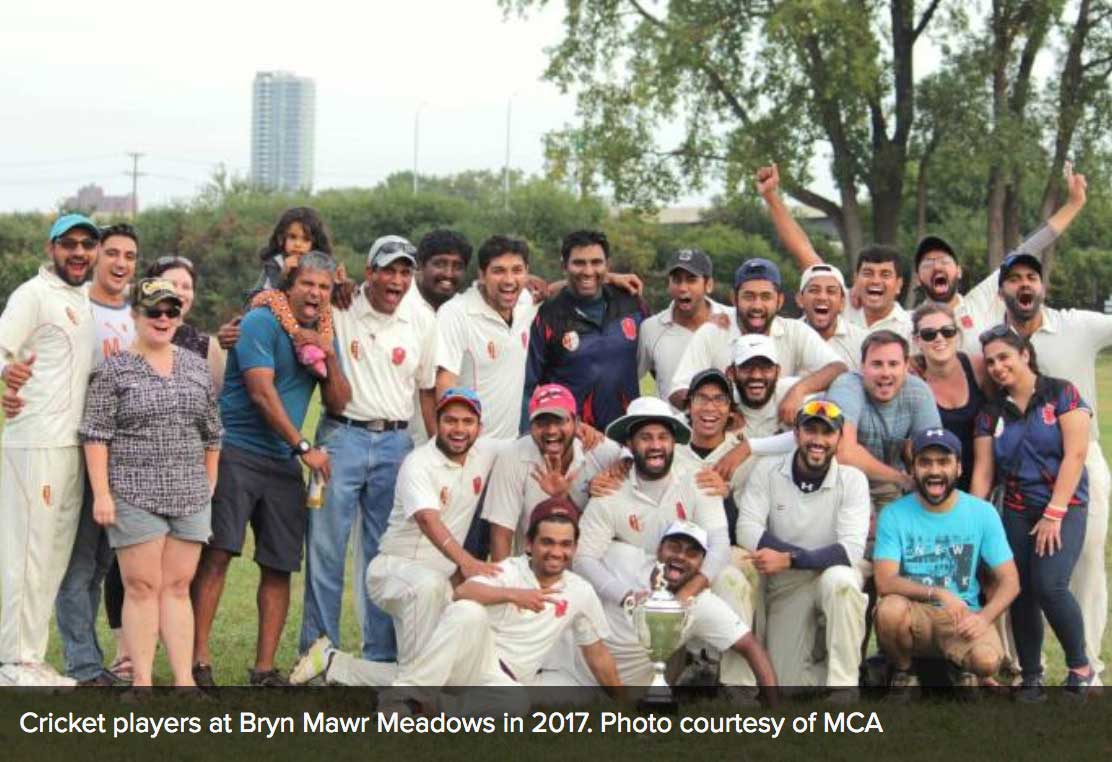 Credit: MICHELLE BRUCH / SOUTHWEST JOURNAL
Utepils becomes official beer of Minnesota Cricket Association
Cricket players at Bryn Mawr Meadows may increasingly end the night at Utepils Brewing, which recently became a sponsor of the Minnesota Cricket Association (MCA).
[button size='large' style='' text='READ THE FULL ARTICLE HERE' icon='' icon_color='' link='http://www.southwestjournal.com/news/biz-buzz/2018/05/utepils-becomes-official-beer-of-minnesota-cricket-association/' target='_self' color='323e48' hover_color='df854f' border_color='' hover_border_color='' background_color='df854f' hover_background_color='323e48' font_style='' font_weight='' text_align='' margin='']
Lately, there's been murmurings of strange sightings in the Theodore Wirth Woods and in the area surrounding the Utepils Fernweh Taproom.
Rumor has it that there's a sort of mythical woodland creature hanging around out there, decked out in vines and leaves. Those in the know say the creature is meant to symbolize rebirth, regreening, and all things spring. (No wonder no one spotted him until recently—this winter was ridiculous.)
We sent out a few spies to investigate—and lo and behold, it's Ewald. Our very own.
He's been hanging around the park, splashing about in the creek that runs by the Fernweh Taproom, and overall acting a bit wild.
We aren't quite sure what's going on, but perhaps it's the effects of that unusually long, harsh winter. Or maybe there's something in the water around here. After all, the water we use to brew our beer at Utepils is legendary—it comes directly from the Glenwood Inglewood spring. It's tasty enough to drive anybody a little wild.
While Ewald's transformation was unexpected, not all of his wild antics are raising eyebrows. In fact, some have led to a whole lot of folks raising glasses. That's because we decided to embrace the wildness and let it inspire our latest beer, a greened-up, hoppy version of our famous hefeweizen.
Ewald the Wild is an aromatically bright and full-flavored brew that is causing quite a stir. It's only available for a limited time, mostly because we have no idea how long this wild and mysterious woodland creature will stick around for inspiration. But in the meantime, let's go (a little) wild.
Speaking of new developments, Ewald the Wild isn't the only new thing brewing at the Utepils Fernweh Taproom. There have been some shenanigans with one of Ewald's siblings. You might say things are getting a bit…dark. Stay tuned for more.
With all this beautiful weather, we're ready to get out on the open road and clean our little piece of paradise.  WE NEED YOUR HELP!
---
WHAT: UTEPILS CLEANS THE HIGHWAY!
WHEN: Sunday, May 20th, 2018
TIME: Meet at Utepils at 9:30am.  We'll gather to watch a quick safety video (MANDATORY if you haven't seen it before- or you can view it in the RSVP) and carpool to our site to start cleaning at 10am.  We're heading back to Utepils with a job well done at 2pm.
We'll be supplying the safety vests, grabbers, and garbage bags for our project.
Please Bring/Wear:
Closed toe shoes (boots are an awesome choice)
Work gloves to protect your hands (thick gloves are very helpful).
It would be a good idea to wear or bring long pants/shirt weather permitting.
If you have a backpack please bring that to carry any items with you as the cars will be parked farther away
[button size='large' style='' text='PLEASE RSVP HERE' icon='' icon_color='' link='https://docs.google.com/forms/d/e/1FAIpQLSfe4kXOciCu4dx1JZ67KXtggYwzl_AtQgBEvmb7bMwP5gyGRA/viewform' target='_self' color='#313d47' hover_color='#ffffff' border_color='' hover_border_color='' background_color='#de854d' hover_background_color='#313d47' font_style='normal' font_weight='400' text_align='' margin='']
---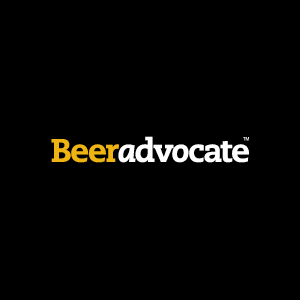 Since 2011 BeerAdvocate has tracked the rapid growth of the craft brewing industry in the United States and Canada. We're excited to be named one of the 50 best new breweries, as chosen by you!
[button size='large' style='' text='READ THE FULL ARTICLE HERE' icon='' icon_color='' link='https://www.beeradvocate.com/articles/17226/50-of-the-best-new-breweries/' target='_self' color='#313d47' hover_color='#ffffff' border_color='' hover_border_color='' background_color='#de854d' hover_background_color='#313d47' font_style='normal' font_weight='400' text_align='' margin='']
Eric Harper, Head Brewer of Utepils Brewing Company // Photo by Wing Ta
by Sarah Ratermann Beahan - The Growler
Utepils wants to be approachable. Despite its size and grandeur—and the facility is quite large and shiny—the brewery aims to produce Old World–style beer simply and without fanfare, and to be a place where everyone can find something they like and not be intimidated. Eric Harper, Utepils Brewing's head brewer, could not be more well-suited to this task.
"Our beer is good. It supports what we're doing here," Eric says. "If you want to sit down and dissect [the beers], they are well-made and interesting, but not scary. Like me."
READ THE FULL ARTICLE ON THE GROWLER!
Jordan's education in Chemical Engineering and previous experience in brewing gives her an edge when it comes to beer, and she's here to make sure the chemistry between you and Utepils' beer is just right. Her hobbies, like her work life, include a little of everything – hiking, traveling, being outdoors, and generally enjoying the Minnesotan lifestyle. Besides the obvious perks of working for a brewery, Jordan likes the supportive coworkers and the opportunity to learn new things. And she can't decide what she likes more: the relaxed atmosphere and people at Utepils, or their beer.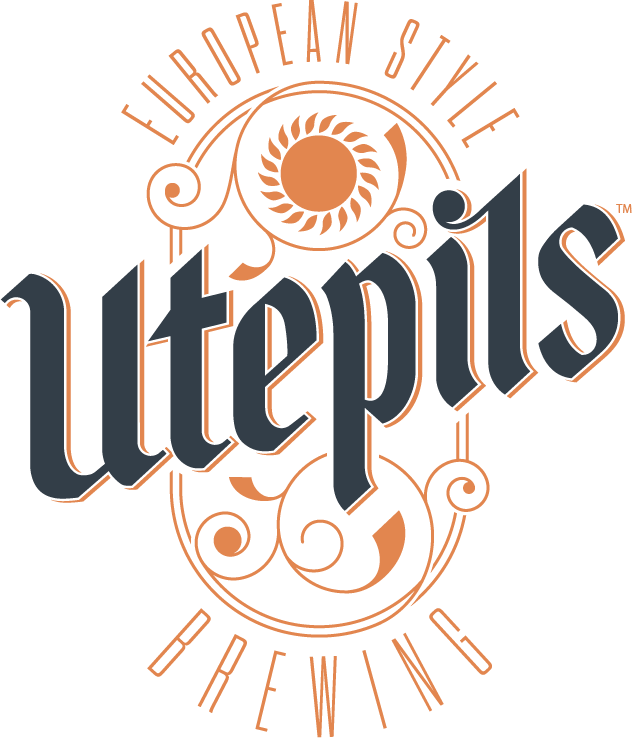 Totally Wirth It honors parks superintendent Theodore Wirth, whose visionary leadership set the stage for Minneapolis's unparalleled park system.
---
[one_half_first]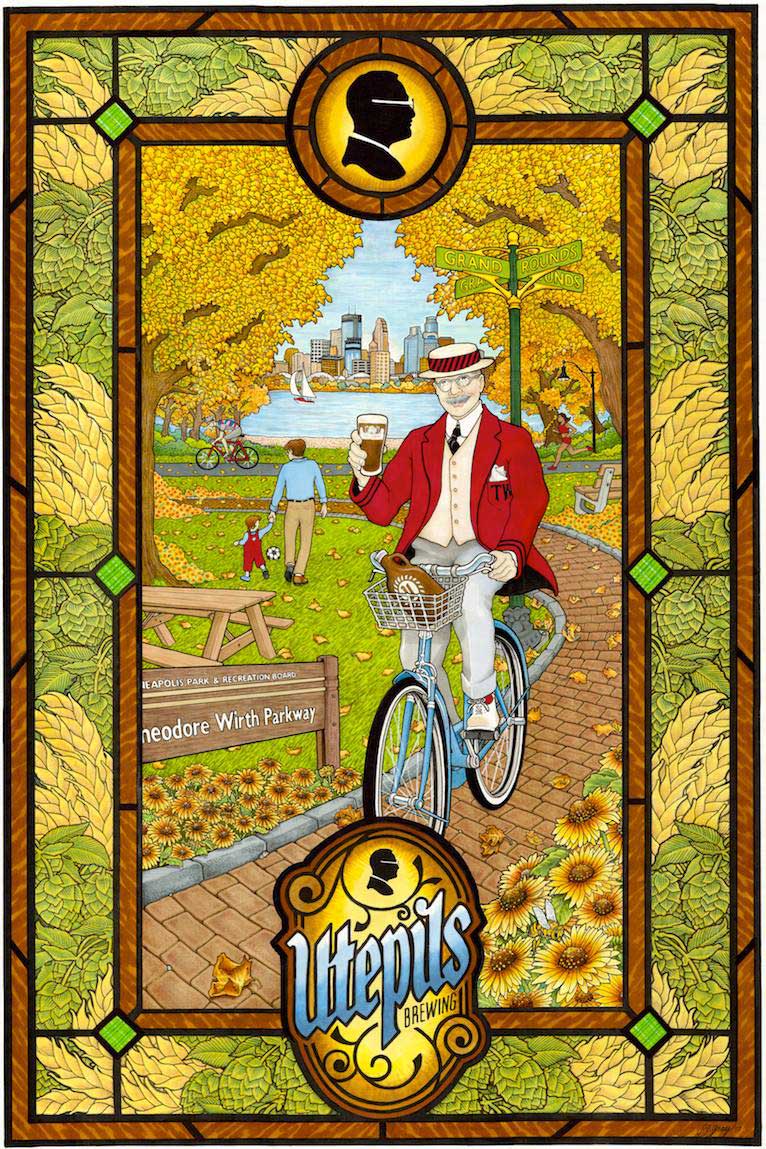 [/one_half_first]
[one_half_last]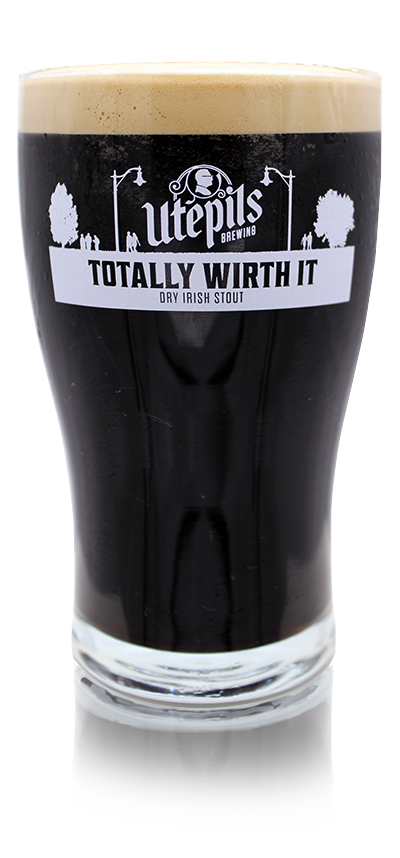 TOTALLY WIRTH IT
DRY IRISH STOUT
The Beer
This creamy, dry Irish Stout is light in body but rich in flavor. It's exclusively available at the Utepils Fernweh Taproom and arrives in your glass via a nitrogen tap. Witnessing the pour is an event unto itself: Totally Wirth It emerges from the tap as a waterfall of tiny bubbles but slowly settles in the glass, forming a dark brew with a thick, foamy head. Don't rush it—the wait is Totally Wirth It.
The Picture
Totally Wirth It honors parks superintendent Theodore Wirth, whose visionary leadership set the stage for Minneapolis's unparalleled park system. In the early 1900s, Wirth directed efforts to reserve and promote vast green spaces throughout the city. One of those spaces is the aptly named Theodore Wirth Park, which is in our backyard. Artist Sean Gray highlights the variety of recreational and leisure opportunities afforded by our parks—with Mr. Wirth himself raising a glass to the city he loved. Just like our traditional beer styles, Sean's work is timeless: the elements Minnesotans loved about our parks 100 years ago still ring true today.
Visit the Utepils shop to view and purchase prints of this or any of Sean's custom Utepils beer posters.
[/one_half_last]
Minneapolis, Minn.: Local craft brewer Utepils introduced Twin Cities beer lovers to the idea of an "Utepils moment," which translates loosely to "The first beer enjoyed in the sunshine after a long, dark winter." People of the north understand that feeling and have taken to the beer in droves: customer demand, both in Utepils' Fernweh taproom and in area liquor stores, has been so high the brewery had to expand their capacity.
Now Utepils is offering beer drinkers the chance to make their 2018 "moment" a true Utepils Moment with their first annual limited-edition Moment beer. "We take a yearly beer tasting trip to Europe (affectionately known as 'Beer Trippin'') in the fall, and we use that trip to find an idea or recipe to identify our Moment beer for the following spring," explains Utepils founder and owner Dan Justesen. "These trips give us a chance to further appreciate the European traditions and styles of beer. Then we bring an idea or a flavor home and offer a fresh, local take on it," says Justesen. "Last year we went to the Czech Republic and visited a dozen or more breweries." The result of that trip is 2018's Moment, a Czech-style dark lager.
"Most people thinking of the Czech Republic and beer are thinking about pilsners like Pilsner Urquell. And they're mostly right!" laughs Justesen. "But one of the breweries we visited has been making a dark beer for 600 years. We tried that and a bunch of others, and we were hooked."
Utepils Moment beer is very dark, almost black in the glass, but it has a surprisingly light body. It's brewed with Czech hops, which give it a nice balance and aroma. The malt flavor comes through with suggestions of toasted bread, chocolate and dark fruit.
Recently the Czech Embassy, in collaboration with Bohemian Hop growers, requested permission to serve Utepils' Moment and Pils beers at the upcoming national Craft Brewers Association Conference in Nashville, TN. Justesen noted "it's quite an honor to be tapped by such experts in Czech beer; especially when we've only been open for one year."
The Moment's world premiere will be Wednesday, Feb 21 in the Utepils Fernweh Taproom. The striking limited-edition cans should start appearing on store shelves the following weekend. There will also be a very small number of kegs allowed out to select restaurants and bars.
Next year's Beer Trippin' destination has also been announced: it's the A-B-C-D of beers, an exploration of Amsterdam, Brussels, Cologne, and Dusseldorf. It will add to Utepils' already worldly menu, which offers their Dusseldorf Alt 1848, Kolsch-style Copacetic (from Cologne), and Belgian IPA Glocal.
But the team at Utepils isn't speculating on next year's Moment release quite yet. Not when there's an Utepils Moment to be had right now.
New tanks and staff expand brewing capacity
Minneapolis, Minn.: Utepils Brewing is pleased to announce the release of two of their mainstay beers in cans. The much-loved Pils Czech-style pilsner and Glocal IPA will soon be available at many area liquor stores.
"These beers were only available on draft because we only had the capacity to keep up with demand at our brewery as well as a select few local bars and restaurants," explains Utepils founder and owner Dan Justesen. "The Fernweh Taproom has been consuming beer at an incredible rate." The Glocal IPA has been the best-selling beer in the taproom since it opened to the public Feb. 18, 2017. And while large demand is a good problem for a brewery to have, it takes additional capacity to address. Which is exactly what Utepils did, adding new brewing tanks to expand the brewery's capacity. Now the Pils pilsner and Glocal IPA will be hitting store shelves starting this week.
The Pils, Utepils' flagship beer, is a Czech-style pilsner, and it reflects its heritage: it's brewed with Czech-grown barley and hops and fermented with a Czech lager yeast strain. Head brewer Eric Harper notes, "It's a clean, bright lager with a distinct bitterness from Bohemian hops." In fact, the Czech Embassy in Washington D.C. has reached out to Utepils about the beer, indicating it represents some of the best American beer brewed using Czech-sourced hops and malt.
The Glocal IPA is more of a blend of European and American heritage. It's a Belgian-style IPA that uses Belgian ale yeast and hops from both European sources as well as American West Coast varietals. Harper says "The Glocal has a refreshing dryness paired with its enticing hop flavors and aroma."
Because of the time involved, the brewery knew that selling all their types of beer in cans was something they'd have to grow into. "You don't see a lot of lager-style beers in craft breweries, because they take a lot longer to ferment," explains Harper. That fermentation process occupies the tank for as long as the beer takes, which means it can't be used to make something else, or more of the same beer for cans, until that batch of beer is done. The Pils, a pale lager, requires six weeks of tank time. It's a big difference compared to Ewald the Golden hefeweizen, already available in cans, which needs just two and a half weeks in the tank.
The expansion also spurred Utepils to hire another brewer to assist Harper. "We have greater capacity now," says Justesen. "Not only with equipment but with people. We're going to be able to brew more beer, but also more kinds of beer, and including some special limited releases," he finishes with a sly smile.
Look for Utepils Pils and Glocal IPA to start arriving in stores this week and Utepils' first limited release beer later this month.
For Kelly Watson, the title doesn't matter. She just wants to be part of the team. When the full-time school social worker decided to take on some extra work over the summer, she only had one place in mind: Utepils. "I told them I'd do anything—I'd scrub their toilets," Kelly says. Instead, Kelly serves as Events Coordinator and volunteers with the Utepils Social Aid and Pleasure Club ("making a difference in the North Minneapolis community is such a passion of mine"). Kelly now works throughout the school year, using her spare time to pitch in wherever she's needed.
Kelly's super-versatile style at Utepils is fitting. When asked about her favorite beer, Kelly says: "When I started working here, it was Pils. But now I can't pick a favorite because I love them all. Today it's the Kolsch Style, but it always changes." Kind of like her job description!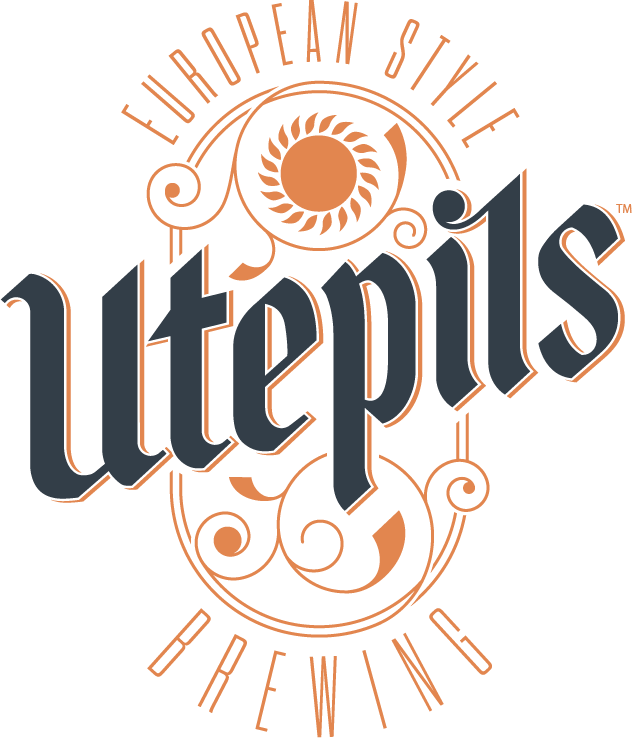 Very cool to see Utepils mentioned in this STrib article about 5 ways for Super Bowl visitors to get their MN winter on. (How cool was it? Even on a 45-degree day, ice cold!) We didn't know anything about it in advance, but it's spot-on that we welcome anyone dropping by after some cross-country skiing in Theo Wirth Park. Or fat-biking, or walking, or running, or even just driving through on your way to see us! We even have a Dry Irish Stout called Totally Wirth It that would tie your entire outing together, just like the right rug does to a room.
The dead-tree version of the paper contains the full illustration, but that doesn't seem to be easily available on the STrib site, so we grabbed a pic so you can enjoy the entire illustration in all its glory.
We're open from 3PM to 11 today; noon to 11 on Saturday, and noon to 8PM on Sunday. Regular weekday hours 3-10.
We kept tabs on Utepils owners, staff, and fans as they visited Prague and the surrounding areas to gather up inspiration for a new, limited-run beer style. This is the final installment in the series. We hope you've enjoyed following along!
We left you with a minor cliff-hanger last time—some of us were headed out into the wilds of the Czech Republic to track down a small craft brewery and microdistillery.
We lived to tell the tale. And here is that tale: The group piled into various taxis and Ubers and arrived at our destination at wildly different times, leaving us to ponder over the drivers' "creative" route selections. The first on the scene didn't seem too worried about their fellow travelers; indeed, they spent the extra time pulling weeds to feed to the goats that were present on the complex. It turned out that this brewery/distillery was also a hotel, spa, golf course, and farm. We posed cans of Utepils beer with the goats. The goats were underage, so alas, they could not partake.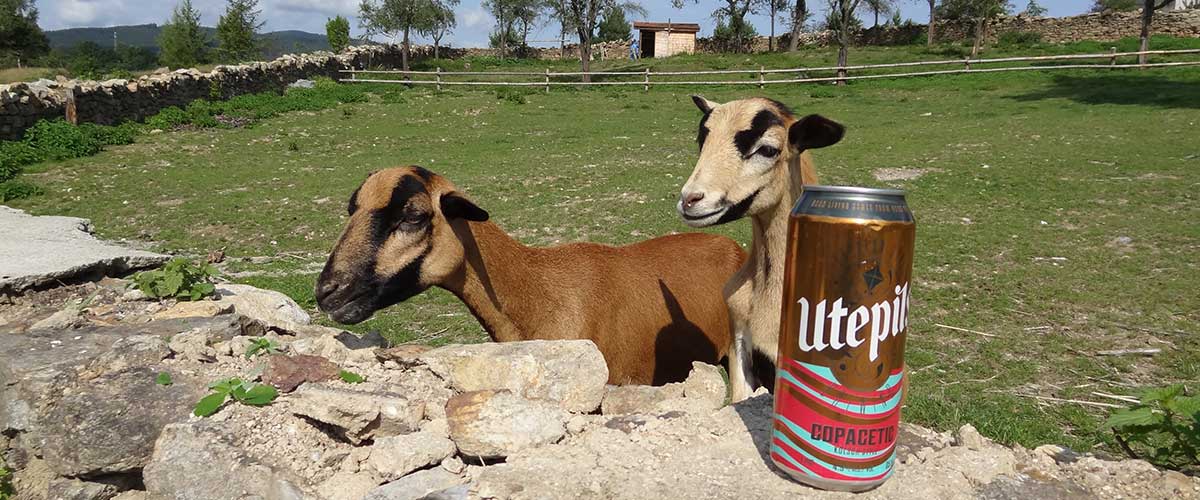 With everyone finally present and goats fed, we arranged a tour of the brewery and were promptly provided with samples of delicious beers. We met the brewmaster, Martin Hrubes of Svachovka. (http://en.svachovka.cz/).  Invoking an old European tradition of trading sports jerseys and extending it to breweries, Martin and Dan swapped logo jackets.
Hrubes's brewery/distillery project is relatively new, so we were eager to compare notes with our own experience as a new brewery. We had a great conversation spiked with generous samplings of finished beers, beers still fermenting, and a new variation growing in popularity in the region called "milche." Milche entails pouring the beer to intentionally create a mug of mostly foam/head that looks like milk in the glass. Incredibly, it sells for more than an actual glass of beer with normal foam/head on it yet contains much less actual beer. Dan was left pondering the question if that could catch on back in Minnesota…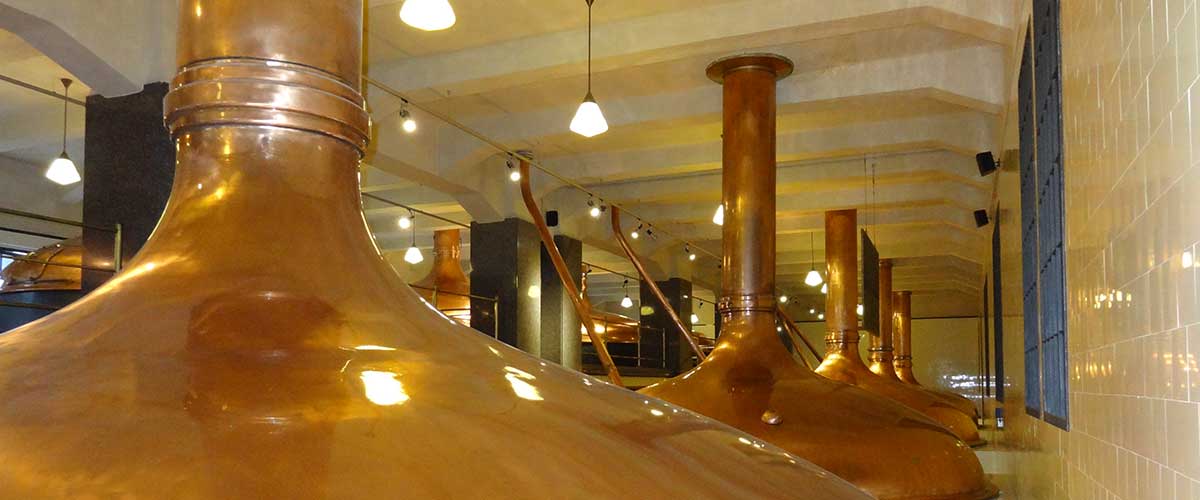 After our tour we enjoyed a delightful and very inexpensive lunch and then departed, many of us clutching bottles of their distilled spirits to bring back to the USA. Returning to Cesky Krumlov, we split into small groups to continue our explorations and seek out adventure. Many people seized the opportunity to pose Ewald cans and other Utepils-branded items for pictures around town.
While we split up initially, the geography of such a small town meant that we bumped into each other with regularity. Several people joined together to find Two Marys, a place that Dan and Deb discovered 11 years ago and had pledged to revisit. They couldn't remember the name, but knew it had a tiny entry off an alley, and the hunt was part of the fun. The steaming hot nightcaps of mead along the river lite by the castle above sealed the deal.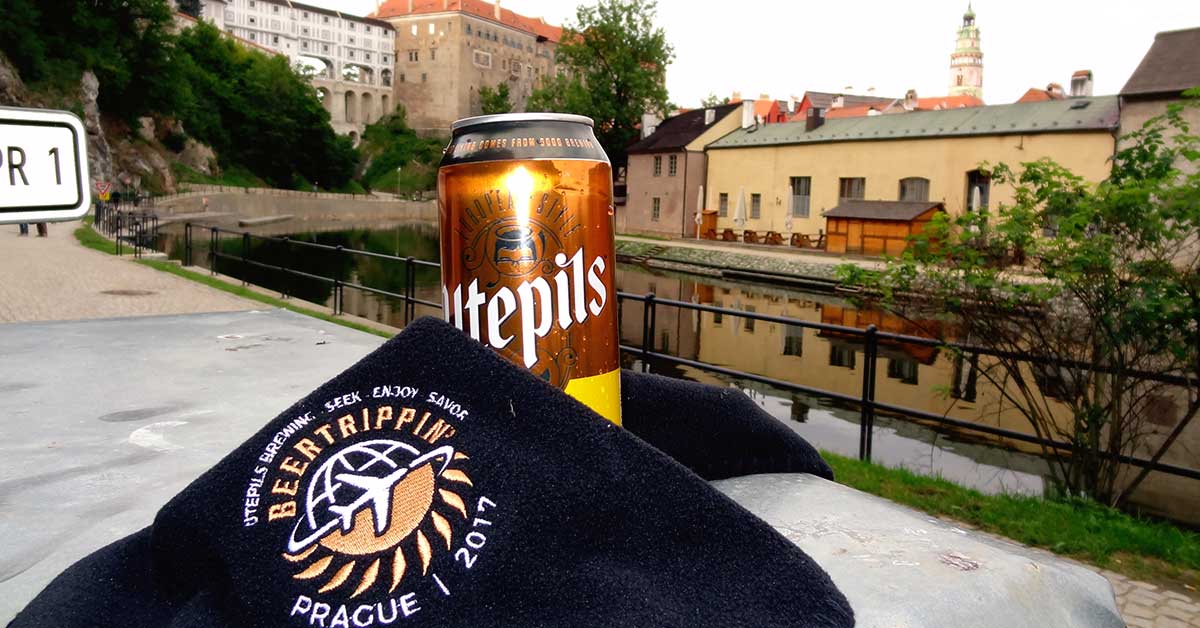 Finally, inevitably, the trip had to draw to a close. The next day we stuffed ourselves, our luggage, and our accumulated shopping in small taxis to return to our coach, which was still parked outside of town. We headed north to Prague and our farewell dinner.
Of course, we wanted to get as much out of the trip as possible so we made a couple of stops along the way. The first stop was the Zvikov Castle. At almost 1000 years old, the abandoned castle was never conquered. It overlooks the confluence of two large rivers and is now a public park. We hiked the river trail and arrived in the middle of a wedding, so we were able to enjoy the wedding musicians while exploring the ruins.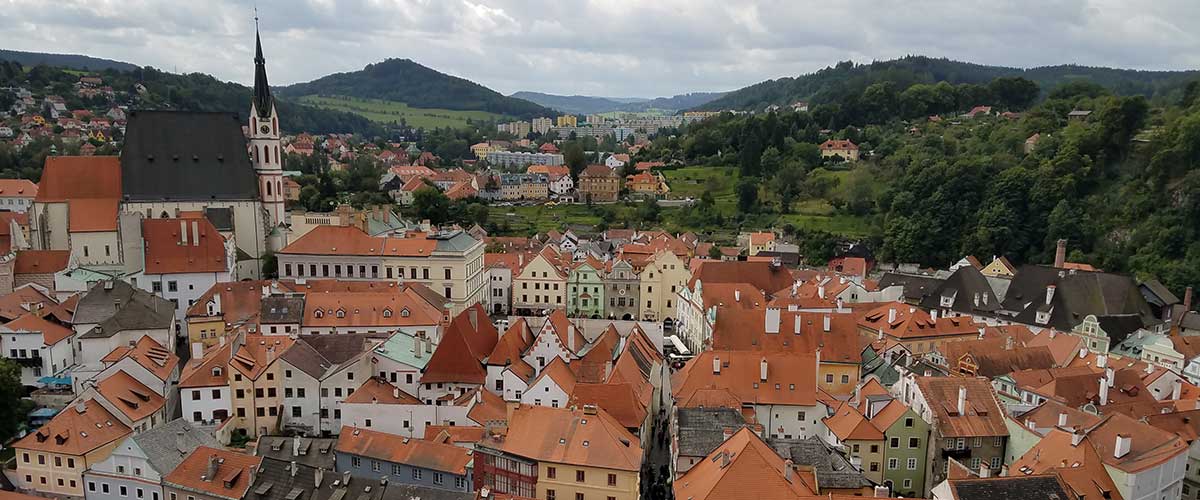 Hiking and castle exploring bring hunger and thirst. Luckily for us, there was a craft brewery nearby called Zvikov. (A nearby craft brewery? Convenient! You'd almost think there was a plan…)
Lucky for us, not only was the food and drink excellent at Zvikov, the owner Josef Valenta was there and spoke excellent English.  We engaged in a lively, spontaneous discussion of Czech beer styles and the changing brewing industry.
After some souvenir shopping, we piled back in the coach to enjoy the scenic drive up the river valley to Prague.
After checking into our last hotel, we had about three hours of free time before meeting at the Strahov Monastery for our farewell dinner. (Don't worry, the Monastery has a brewery.)
Way back at the beginning of the trip, Dan and Deb gifted everyone with a travel scarf to carry in case of cold weather, which never occurred.  As we arrived, everyone else pulled out their scarves to wear.  It made Dan and Deb laugh and feel appreciated that they had all schemed to surprise us.
We capped off the trip with a long evening celebrating friendships both old and new, sharing laughs, stories, toasts, hugs, and promises to stay in touch.
There are more stories, of course. (Next time you're in the Utepils Fernweh Taproom, ask what happened with the people in the elevator.)
The trip was a great success. We're full of inspiration and memories. Want to come along next time? We'll be announcing our 2018 Beer Trippin' very soon.
See more pictures and posts about the 2017 trip here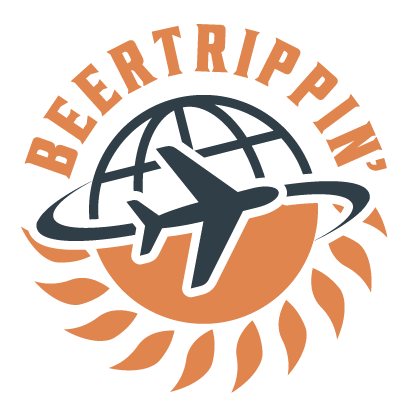 This holiday season, you could go to a mall to do your shopping.
Or you could go have a pint or two and get it all done at a brewery.
We're going to go with the latter.
This is our very first holiday season, and we're feeling the merriment. Big time. Utepils is bursting with gift options for the beer lovers in your life.
One delicious choice: Pick up a growler or two. Thanks to our state-of-the-art growler filler, growlers in the fridge and unopened will stay fresh up to a month.
We also offer an awesome selection of merchandise with options for every budget. You're welcome to stop by the Utepils Fernweh Taproom or take advantage of convenient online ordering. Our specially branded merchandise includes:
And of course, there's the ultimate gift: a VIPer MemBEERship™. It's the gift that keeps on giving. And it keeps on giving beer. MemBEERships are limited, so don't wait—gift one now. (Or grab one for yourself before they're gone!)
Wishing you and yours a joyous holiday season.
Ready to be a gifting hero?
For the beer lover in your life, gift a VIPer memBEERship from Utepils. It's truly the gift that keeps on giving. And it keeps on giving beer.
It's the perfect jaw-dropping gift for the holidays—or birthdays, anniversaries, or random Tuesdays. (We think it's always a good time for good beer.)
VIPers are our Very Important Patrons, Enthusiasts, and Recruiters. They're the crème de la crème of Utepils fans.
There are three memBEERship options to choose from—and a limited number of memBEERships are available, so act now before it's too late!
VIPER BENEFITS
$1,000 for a lifetime memBEERship Benefits include:
First beer free at every visit for 99 years
Free limited edition VIPer stein
Free $100 gift card for more beer or merchandise
Be the first to access annual beer trips and limited edition beers
Leave your mark with a personalized taproom sign
COMMITTED COUPLE VIPER
$1,900 for two lifetime memBEERships:
Includes all VIPer benefits at a discount for two people—plus a custom taproom sign with both of your names (way better than carving your initials into a tree).
ART PATRON BENEFITS
$5,000 for a lifetime memBEERship
Only 9 available! Includes all the VIPer benefits plus a ton more, including:
Sponsor and have your name attached to a one-of-a-kind art installation within the brewery
Take a private brewery tour with ten guests
Become a Brewer for a Day
Priority access to be a Utepils Brewing volunteer which grants free access to MN Craft Brewers Guild events.
For that special, hard-to-shop-for person in your life, nothing beats a memBEERship. It's unique, it's lasting, and it's full of beer. It's also exclusive and limited, so don't wait.
(Psst—can't think of anyone to gift it to? Gift it to yourself. You deserve it.)
The Minnesota Craft Brewers Guild suggests you pair craft beer with your turkey. Jesse Hauf, Head Brewer and Owner of 10K Brewing in Anoka talks with Kylie Bearse and Jason DeRusha (3:20). WCCO Mid-Morning - November 22, 2017
#Alt1848 the perfect beer to accompany your Thanksgiving dinner. Don't take it from us. Thanks to Minnesota Craft Brewer's Guild and WCCO-TV | CBS Minnesota for the shout out.
Check out the other recommended beers for apps and desserts.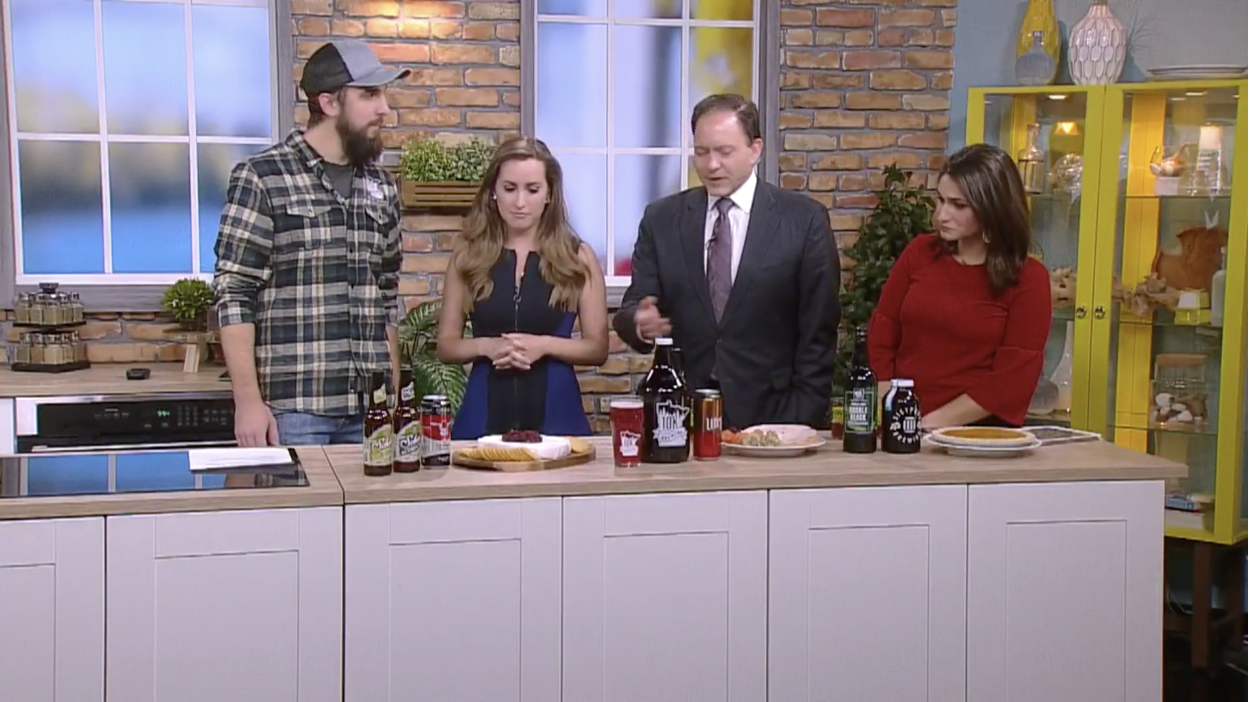 Utepils Fernweh Taproom: "Our second living room"
We hear plenty of people talk about how welcoming and comfortable the Utepils Fernweh Taproom is. For a warehouse-esque space with soaring ceilings and lots of beer tanks, it's pretty warm and inviting.
So warm and inviting, in fact, that Sigrid Hutcheson and David Chapman dubbed it their second living room. Several years ago, the spouses sold their home and moved into an apartment. They love their living accommodations, but the smaller space limits their ability to entertain.
Enter Utepils and the Fernweh Taproom.
David and Sigrid regularly host gatherings small and large at the Fernweh Taproom. They call ahead and reserve a few tables, and they bring hearty snacks and buy rounds for everyone. Those who want more to eat use the food truck. "People seem to enjoy our new mode of entertaining," says Sigrid. (To say the least.)
Sigrid just used the Taproom for their biggest event yet—her recent 80th birthday party. "We had guests ranging in age from 82 to 2," Sigrid says. "The small children were happy with the games and the space to run around. The oldest people were happy to have a place to sit and drink beer and watch the action, and the people in the middle were able to move around and get to know people. I loved it."
David and Sigrid do more than make themselves at home at Utepils. They're also VIPERs as well as investors, and they love what Utepils has done for their social life. "It gives us an opportunity to hang out with people of a variety of ages," says Sigrid, who volunteers with Utepils's Social Aid and Pleasure Club.
As for their favorite beers, Sigrid currently favors Alt 1848 while David tends toward the Pils. Make sure to say "hi" if you see them. After all, you're entering their living room. (Fortunately, they're incredibly gracious hosts.)
Bicycling and beer are two of Minnesota's favorite pastimes. Around these parts, they go together like tater tots and hot dish. The area around Utepils is absolutely ideal for cyclists, so it's no surprise that more than a few (okay, thousands) of people have made their way to the Utepils Fernweh Taproom on two wheels for post-ride refreshments.
One group in particular is fully embracing the bicycling and beer hybrid culture: Utepils Cycling Friends. This group started out as the brainchild of Matt Wandzel and his cycling buddies, who had been eagerly awaiting Utepils's opening. Earlier this year, Matt approached Utepils as a potential venue for a fundraising event for the MS 150 (an endurance bike ride that raises funds and awareness for Multiple Sclerosis). "Utepils was ecstatic," Matt says of the inquiry. "They were more than happy to create a space for us, and the event was a great success."
That event sparked a conversation about how to continue a relationship between the cyclists and Utepils, and by the time summer arrived, Utepils Cycling Friends was off and rolling. The group meets at Utepils once or twice a month on Sunday mornings around 10 a.m. They embark on a roughly two-hour bike ride, and by the time they're done, the brewery is open, the food trucks are on-site, and the group can eat, drink, and hang out.
The first ride had seven participants. Now they regularly have 15 or 20, with all skill levels represented. "We make sure that no one is out there cycling by themselves, and there's always someone to help teach a newer rider," says Matt. While the group has historically focused on mountain biking, tackling the hills of Theodore Wirth Park, they're going to add in some road biking as well due to popular demand.
As for the coming winter months, the group hopes to find a way to keep active together—and, of course, keep drinking great beer together.
Utepils Cycling Friends is open to all. Upcoming rides are posted on the Utepils website under "events," and there's also a Facebook group (search for "Utepils Cycling Friends.")
P.S. We're adding even more bicycle parking at Utepils as part of our parking lot construction, so it'll soon be easier than ever to roll right in!
You asked. We delivered. (Literally.)
Utepils moments can happen anywhere. That's why we went BIG when we started Utepils Brewing—so we could make lots of beer for you to enjoy wherever you are.
We've been hearing from beer fans far and wide that they wish they could score Utepils at their favorite local hangout or their neighborhood liquor store. That's why we've been working hard to expand the area in which Utepils is available.
Utepils already ventured Northwest as far as Elk River, and we're at it again.
Our latest expansion takes us west (and south) into beautiful Carver county. As of October 16th, we're making our way from Watertown to Waconia, and from Chaska to Hamburg (ahem—Hamburg, Minnesota—Hamburg, Germany might show up on a future Beer Trip itinerary, but it's a little further than our drivers can go right now).
If you still don't see Utepils at your favorite spot, don't be afraid to ask for it by name. "More OOH-ta-pilz, please!"
The Utepils Fernweh Taproom quickly claimed a spot at the top of the list of the Twin Cities' coolest taprooms, but admittedly, there was one drawback: Our parking lot, while large, was bumpy enough to make you feel as though you'd already had a few pints of Ewald the Golden before you even entered the building.
We think you deserve a smooth ride in (and out), so we're working with our landlord to fix it. It's like rolling out the red carpet for you, except instead of a red carpet it's really nice asphalt. Even better.
Parking at Utepils has always been free and will continue to be free. There's plenty of parking available during construction, so don't be shy. Come on over and see what we're up to.
We're also adding more bike parking. We'll keep the three racks we already have, and there will be additional parking available as part of the parking lot renovation.
Bonus: We've claimed the outdoor space adjacent to the Fernweh Taproom (the area that can be seen outside our wall of windows). We've been tearing things up to prep for what will ultimately be the beer garden of your dreams. (Outside space is important—as you may recall, Utepils is a Norwegian word for the first beer enjoyed in the sunshine with friends after a long, hard winter.)

We'll be working on beer garden designs this winter, with construction starting in the spring. Want to help? Purchase a VIPer MemBEERship now if you haven't already done so. Right now, proceeds are helping to fund the landscaping work (and you also get a ton of free beer!).
We'd love to hear what your dream beer garden would look like. Let us know!
Clockwise, from left, Jeremy Warren, Eric Harper, Mitch Steele, Peter Bouckaert, and Dan Justesen | Illustration by Brett Affrunti
Going Their Own Way: Top Brewers Seek New Opportunities
Excerpt from BeerAdvocate article:
A Sustainable Corporate Culture
As a board member of the Minnesota Craft Brewers Guild alongside Surly owner Omar Ansari, Dan Justesen has an intimate perspective on the issues that led to the abrupt departure of Todd Haug, Surly's former head of brewing operations. When Justesen, the co-founder and president of Utepils Brewing, discovered that Haug didn't have any ownership in the brewery he had helped build into one of the state's largest, Justesen was surprised. Ansari, who had been running his family's abrasives factory, launched the brewery with Haug in 2005.
Read the full story from BeerAdvocate
THE BEER WAS FLOWING ALL WEEKEND!
Oktoberfest 2017 is in the books. Thanks to all who attended.
We have released Receptional, our new Festbier in growlers for a limited time! Get one or more before it's gone!
[vc_gallery type="image_grid" images="8937,8883,8894,8896,8897,8898,8899,8900,8892,8901,8910,8912,8913,8915,8916,8917,8919,8921,8922,8924,8925,8928,8940,8941,8943,8944,8945,8946,8947,8948,8949,8950,8952,8953,8955,8957,8958,8959,8960,8961,8962,8965,8969,8970,8974,8975,8976,8979,8968,8888,8881,8880,8878,8987" img_size="medium" column_number="3" grayscale="no" images_space="gallery_with_space"]
We hope you've been enjoying the updates from Utepils's first annual beer trip and living vicariously (viBEERiously?) through our intrepid travelers. Wishing you were part of the action? This will be an annual tradition, so start dreaming about next year. VIPERs have priority access to this ultra-limited trip, so if you're interested, make sure you're part of our VIPER community! Ask your bartender for more information.
Cesky Krumlov or bust! We boarded the 58-passenger beer bus with just 16 of us, so we had plenty of room to spread out ourselves and bags and ride in style. The on-bus bar opened up immediately so we dedicated the day to enjoying both the ride and the Zatec beers we had been given. (And, yes, for the curious—there was a WC on board.)
We broke up our long travels with a couple of stops. First up was Brno, the second-largest city in the Czech Republic. As this was a first visit to Brno for most of us, priority #1 upon arrival was exploration. We headed off in various directions to scope out the town for a while before meeting up for lunch at the Starpromo brewery.
During pre-lunch explorations, Dan and Deb found a long winding street featuring a "drunk monk" sign for a wine bar. Down several hallways and into the hillside, we found a cozy local pub serving wines of the area. We sampled a few options and settled on two large glasses of wine and a plastic 2-liter jug of wine to go. Total cost: About $9. When we met up for lunch to exchange stories, we found that others in the group had found similar hidden gems.
One fabulous meal and several beers down, we somehow ended up buying more beer for the bus at the gift shop. We really think Minnesota needs to look at allowing breweries to sell "beer to go" in packages to tourists.
Once we were back on the bus, it was time to crank up the Bluetooth speaker and rock out with our augmented supply of beverages. Our next destination was Telc, a UNESCO world heritage site, accessed via a couple of hours of winding roads with occasionally threatening weather.
After arriving in Telc, we walked into a large plaza of homes—all seemingly frozen in time. At one point, the local prince fell in love with the new fashions of Italy, returned home with an architect and crew in tow, and decreed that all homes in the plaza—and whatever he could see from his windows—must rebuild the fronts of their homes to conform to his new standards. Hundreds of years later, little has changed, and it's a bit of history frozen in time and on display. We found a nice patio bar for snacks and beers.
Following our stopover in Telc, we hopped back on the bus for our final two-hour drive to Cesky Krumlov. The music played on, more beers were shared, and a few naps occurred. We arrived in Cesky Krumlov fairly late, so we checked into our hotel and enjoyed a full night of rest.
Cesky Krumlov is Dan's favorite small city in Europe...so far. Built within an oxbow in the river, it is virtually an island with a large castle perched upon a high hill. Our city guide, Carolina, walked around the overlooks, shared stories of how the city was reborn after communism collapsed, and introduced us to her dog, who escaped his yard and somehow found us!
Our tour concluded within the castle grounds. Some wandered the extensive castle gardens while others headed for the city shops. A climb up the astronomical tower drew several us to test our fear of heights, small spaces, steep stairs, and a sagging rope handrail. The view is magnificent, and I hope the photos give a small sense of the beauty and compactness of Cesky Krumlov.
For the rest of day, couples and small groups wandered about, occasionally rejoining and splitting up as beer, stories, and food were shared. The town has become a major tourist destination since Dan and Deb's first visit eleven years ago. Selfie sticks abound, yet the charm remains.
Birds of a feather seem to flock together. As five of us entered Pappa's Living Restaurant for dinner, we discovered two other tables of fellow beer trippers had preceded us. We promptly became the loudest tables in the place. We blame excitement, beer, wine, and amazing food. Our group has really bonded.
So much so, that seven us of later found a bar featuring local music and—what else?—local drinks. There was a very interesting birthday party going on there so we stayed for the dancing and people watching.
We also did a bit of preparation for our next day. The goal: Visit a small brewery and micro-distillery in the country. The good times keep rolling!
[masterslider id="13"]
Each month, Utepils supports a different community organization with a donation drive, volunteering, and a charity event
Minneapolis, Minn.: Utepils Brewing has expanded their philanthropic Social Aid and Pleasure Club (SAPC) with an aim of providing three levels of support to a featured local organization each month. On behalf of the featured organization, Utepils will organize volunteer efforts, recruit donations, and host an event during the month. The featured organization for September is NorthPoint Health & Wellness, a clinic based in North Minneapolis that provides medical, dental, and mental health services along with community-focused volunteer work.
Of the decision to sharpen focus on philanthropy, Utepils founder Dan Justesen said: "The Bryn Mawr neighborhood and entire surrounding community embraced us from day one. Even though we've been open for less than a year, we feel completely at home here and for us it's a no-brainer to support the wonderful people and organizations around us."
Justesen also says he has no doubt that members of the Utepils community will embrace these partnerships. "If the crowd at the Utepils Fernweh Taproom is any indication, our beer attracts a really good-hearted, community-focused group of people, and we've already heard from so many of them who are excited about the chance to blend their love for beer with their love for giving back."
The Social Aid and Pleasure Club—and all related events and activities—are open to all (though you do have to be 21 to take advantage of the free beer!).
On behalf of NorthPoint Health & Wellness, September's events and activities include:
Volunteering with NorthPoint on September 1st
Non-Perishable Food Drive throughout the month of September at the Utepils Fernweh Taproom. People who bring in a bag of non-perishable food items will receive a free beer.
Spotlight Event on September 11th from 4 – 7 p.m. at the Utepils Fernweh Taproom. Representatives from NorthPoint will be on site, and a portion of proceeds from sales during the event will benefit the organization. Individuals who donate $20 or more will receive a free beer and have a chance to ring the bell.
Here's the third update from our intrepid travelers, who are currently on Utepils's first annual beer trip! Their goals: See the sights. Eat the food. Drink the beer. Learn about local brewing traditions. Come home with inspiration for a new, limited edition Utepils brew.
Catch up with the previous updates and stay tuned for more!
Dan heard that our free day in Olomouc dawned clear and crisp, but he—and a few others—opted to sleep in. (What's a vacation if you can't catch up on sleep?)
Even the non-early-birds caught the last few minutes of the hotel buffet bar, complete with complimentary mimosas. After breakfast—perhaps due to the mimosas—it was already time for a mid-morning nap for some, while others headed out to start exploring Olomouc.
The sleepyheads and explorers shared a common goal: Make it to the famed astrological clock by noon for its legendary, once-per-day performance. (We made it by 15 minutes!) Olomouc's clock is even older than Prague's. Early risers from the group were there on a nearby beer deck sipping a cold Pilsner Urquell and some of the latecomers joined them. Around a hundred visitors in total huddled in front to the clock to await the daily display. 
It was worth the visit. The performance lasted over five minutes and was enjoyed by all. It's amazing to think that this tradition has been in place for more than 400 years. If it could impress those of us used to fancy phones and 3D movies today, we can only imagine how it seemed to those observers in the early days.
Once the beer-drinking seal was cracked, it seemed best to wander and find some beer locations. Deb and Dan decided to track down the beer spa referenced in the previous post. They found it at St Weceslas brewpub, and were able to make reservations for the evening. The spa was down in the basement, and the stairs down proved quite entertaining: The walls featured a series of paintings depicting a young, well-dressed lady with a full beer who, as you descend the stairs, turns into quite naked lady with an empty beer going into the spa door. But we digress.
We've had our fill of pork and dumplings on this trip so we decided to mix things up with a pizza lunch. Later in the evening we met up with fellow Beertrippers in a delicious Nepalese restaurant. Deb and Dan arrived relaxed and serene as they came straight from the beer spa, where they spent two hours variously soaking in a hot beer bath, sweating it out in a huge sauna, and relaxing post-sauna with cold pivo (pivo is the Czech word for beer).
Others opted to spend the day in various museums, a laundry with Chinese food, considering climbing the tower with 480 steps (they didn't), lunching at the Torture Museum (don't worry—it's a bar), and generally having a beery, cheery day.
Coincidentally, we all arrived at the street to the hotel at the same time in the evening and convinced the bartender to not close the hotel bar. We just needed one more. Unlike other nights, we still made it to bed early, with plans to get up early to embark for Brno, Telc, and finally Cesky Krumlov.
[masterslider id="12"]
Here's the second update from our intrepid travelers, who are currently on Utepils's first annual beer trip! Their goals: See the sights. Eat the food. Drink the beer. Learn about local brewing traditions. Come home with inspiration for a new, limited edition Utepils brew. Catch up with the previous update and stay tuned for more!
A scheduled travel day let us indulge in a necessary sleep-in after our late night at U Flecku (and, for some of us, a pub crawl on the way home!).
When we finally awoke, we dragged our bags and behinds to the train station for our three-hour ride to Olomouc, which is a former capital of Moravia and now an eastern province of the Czech Republic. After a bit of creative bag storage (imagine Deb jumping up and down on her luggage to flatten enough to fit in the overhead rack), we settled down for a nice ride.
Within 15 minutes of departing, we received complimentary champagne flutes & fills from train staff. Sweet! Shortly thereafter, the clinking cooler bags were opened to release the now chilled Zatec sample pack beers. The group was finally starting to recover from the previous night's revelries and the libations were a welcome treat.
After arriving by train, we were whisked by taxi to our new hotel in Olomouc. We settled in and then gathered in the lobby at 4pm for a strolling tour of the city and parks with a local guide. Olomouc is an old city and former military fort that is full of impressive sights including huge walls, cathedrals, cobblestone streets, and plazas lined with restaurants and centered with monuments.
Famous genetic scientist F. Mendel lived here. Mozart, who recovered from smallpox here as a child, and Beethoven created special works for the city.
We ended our tour at a restaurant for dinner and gifted our guide with a cold can of Utepils beer. We had a delicious dinner and shared stories and plates of food.
After dinner, a few were ready to hit the hay, but Dan and Deb led a small group to a nearby brewpub to keep the festivities going. We were drawn to the brewpub due to its name, Moritz. Moritz happens to be the name of our Bavarian host's son, who is building our new fermentation tanks. On our short walk to the Moritz brewpub, we spotted a sign for another local brewery offering a "beer spa." Curiosity abounds. Wonder if we can get a reservation? Stay tuned.
[masterslider id="11"]
Here's the first update from our intrepid travelers, who are currently on Utepils's first annual beer trip! Their goals: See the sights. Eat the food. Drink the beer. Learn about local brewing traditions. Come home with inspiration for a new, limited edition Utepils brew.
From across the globe and by train, plane, and Uber, we gathered in Prague.  The majority of the group arrived on Thursday. Despite a light rain, we easily found a pub (or two!) to begin our exploration of Prague and its beer.
Most of us indulged in sleeping in Friday morning as we fought off jet lag and late nights. The trip formally began at 3 p.m., when we met in our lovely hotel lobby. By 3:00, many of us had already engaged in quite a bit of exploration, and we can report that fine beer can be found all around Prague at about $2 per half liter.  During a break in the drizzle, Jim, Bob, Al, and Dan found a small street fair and enjoyed large grilled sausages.
To formally kick off the trip, we exchanged hearty greetings and Dan and Deb handed out our inaugural Beer Trippin' scarf.  Our local tour guide provided a short history lesson on Prague to prepare us for the sights we would see. It was still drizzling, so it seemed best to do as much talking as possible inside.  Along the way, we popped in the Two Cats Pub to warm up with a couple of beers.
We ended our tour at U Suppa, whose owners claim its status as one of the oldest brewpubs.  We laughed, drank beer, told stories, ate huge amounts of food, drank more beer, listened to the strolling accordion player, drank more beer, tried to teach accordion player a new song, and drank more beer before heading out into the night. Perhaps a spontaneous pub crawl may have occurred.
Saturday was our first full day of Beer Trippin' and we went big. We took a bus to the Pilsner Urquell brewery in Pilsn.  This the original creator of blond hoppy lager, which became a worldwide sensation in the mid 1800's. Today, 75% of all beer brewed is of this style, though most is not nearly as good as theirs.
At the brewery, we encountered a veritable "Disney World" of technology that presented the story of their beer with film, museum displays, an English-speaking guide, and a bus to whisk from building to building.  The current brewery is a marvel of high tech.  We also toured the original cellars where the beer is brewed (just for us tourists) in wooden, open-topped fermenters and then lagered another three weeks in oak barrels.  We sampled the beer directly from the barrels in the unfiltered, unpasteurized state. Yum!
After a quick lunch and stop the gift shop, we were back on the bus to head to the Zatec Hop Festival. Upon arrival, we weaved our way thru the crowd to the Zatec Brewery.  Here there was no high technology, no film, and no English-speaking guide. That didn't slow us down. We came, we saw, and we sampled in the lagering cellars.  This is an old brewery that makes great beer, but due to the low prices of beer sold in the Czech Republic (money is in exporting), it has been hard to fix up the place that Communism let fall apart.
With the tour complete and gift packs of Zatec beer in hand, we hit the Zatec Hop Festival. Just like any other county fair, there are rides, games of chance, a big stage with politicians yakking, bands playing, food stands, and beer stand after beer stand. It was prohibitively difficult to keep a large group together amid the happy chaos, so we scattered with a planned meet-up for later. When we re-convened on the bus, many arrived wearing big smiles—and hop wreaths upon their heads. We enjoyed exchanging stories on the ride home.
Saturday night, we were on our own to explore. Small groups headed out for shows, dinner, and/or more beers.
Sunday was also unscheduled, to give Beer Trippers the opportunity to explore Prague on their own. Many took advantage of the opportunity to shop and check out local culture, including museums on the history of Czech Communism and one dedicated to the life and work of the world-acclaimed Czech ART NOUVEAU artist Alphonse Mucha. Many also visited the famed Prague Castle, which dominates the skyline.  Reports also filtered back of plenty of stops for beer!
Our evening dinner was a U Flecku, another brewpub with owners claiming its status as "one of the oldest in the world." One claim to fame is that they make only one beer, a dark lager.  They have sold this beer for more than 600 years. This dedication to a single dark lager would stand out anywhere, but in the land known for golden lagers, it is amazing....and delicious. Innumerable beers were consumed (well, not innumerable, as someone there tallied up the bill) along with huge platters of food.  Things got loud and energetic as we enthusiastically sang along with the strolling accordion player.
With some heading back to pack for our Monday departure to the east of the country, a few hardy souls embarked on a short, three-stop 3 pub crawl to try to some local Budweiser beer.  (No not the Budweiser you're thinking of—this is the good stuff made by the Czech brewery of the same name.  And, yes, many lawyers over the years made a lot of money on that trademark battle.)  Off to bed with much more fun to come!
[masterslider id="10"]
This is the best kind of research.
On September 1st, Utepils community members and fellow beer enthusiasts will meet up in Prague for an epic, nine-day trip to the Czech Republic to eat, drink, and be merry. Their goal: Taste. Experience. Learn. Get inspired. This is an annual trip with a very cool ultimate purpose: help formulate a new, Limited Time Offer (LTO) beer style by Utepils.
Each year, the trip-inspired beer will be dubbed the "Utepils Moment." The style will vary from year to year based on the trip's discoveries.
We're well-known for embracing traditional, European style in our beers. And we decided there was no better way to keep with tradition than go straight to the source. The trip includes stops at a number of classic European breweries with incredible heritage and stein-fuls of lessons and stories to be uncovered.
Utepils owners Dan and Deb Justesen have led trips all over the world, so they're the ideal hosts for the annual Utepils beer trip.
This year's itinerary has been described as "beer heaven." We'll soak up local culture and history with walking tours and VIP access to tastings, dinners, festivals, and breweries. This trip has been planned to a "T" so visitors need only show up with a hearty sense of adventure and even heartier appetites. A few highlights include gothic Zvikov Castle and the famous Pilsner Urquell brewery.
Wish you could join us?
Each year, a limited number of spots will be made available. Your best shot at nabbing one of them? Become a VIPER. VIPERs get exclusive priority access to the trip (among many other perks).
Can't join us? Be sure to follow us on Instagram and Facebook for photos and updates. Next year's trip will be announced upon our return—and perhaps it's the one for you. In the meantime, now that Utepils is available in cans, you can crack one open at home, put on some beer hall music, and live vicariously.
Deb's business cards say: "Founder/Muse." It's a role she started practicing for a long time ago. At age 8, Deb made her mom a card that read: "Mother's Day is almost here; so it must be time to have a beer." A wise youngster, indeed.
Flash forward a few decades, and Deb is giving moms (and dads, and everyone else) plenty of reasons to raise a pint in celebration. Deb is the ultra-creative "Idea Person" around here. She thinks big and isn't afraid to fail. That brand of gumption made her willing to jump in to brewery ownership with both feet—even when it raised a few eyebrows. "Some people actually felt sorry for Dan and me because they were sure we were going to lose everything," she says.
Deb's happy to be proving them really, really wrong. And how's this for full-circle? This Mother's Day, Deb's daughter posted a social media tribute raving about how cool it is to have a beer maven for a mom. Cheers to that.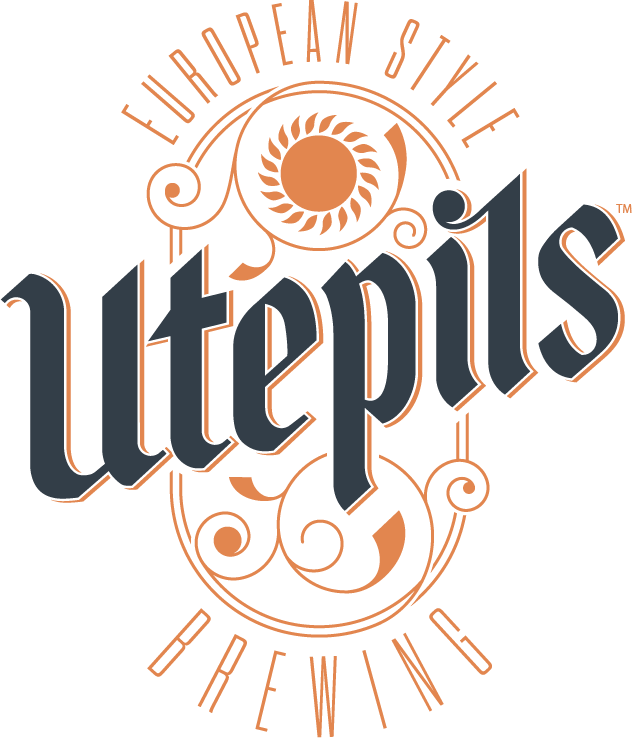 Assistant taproom manager Chris comes to Utepils with nearly two decades of experience in the hospitality industry, and he can handle anything we throw at him. He loves shooting the breeze with customers—it's one of the best things about his job. But if you're inclined to complain to him about the weather 'round these parts, you might be barking up the wrong tree. Chris recently relocated to the Twin Cities after spending 14 years in Duluth. (People from Duluth see our weather forecasts and giggle patronizingly. It gets rough up there.)
So even though the word Utepils roughly translates to "the first beer enjoyed with friends in the sunshine after a long, hard winter," Chris doesn't need to wait for a warm-up to enjoy a cold one. (And neither do you. It's always the right temperature in the Fernweh taproom.)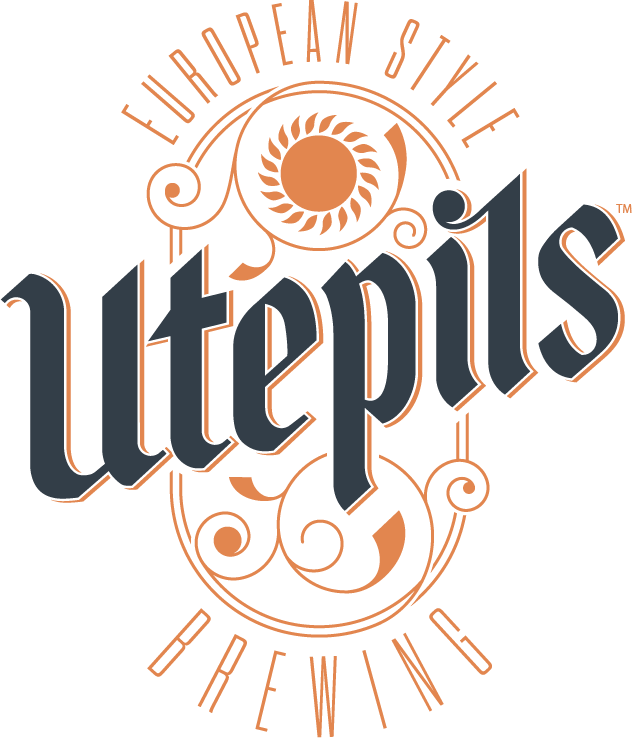 Shortly before the soft opening, John Oxley walked into the Fernweh taproom—and never looked back. (Okay, we usually let him leave at night.) His conversation with one of the owners morphed into an impromptu interview. And even though there wasn't a formal job available, John got along so well with everyone that we found a spot for him. John started out by working security and is now the Assistant Taproom Manager, which sees him doing everything from serving customers to throwing kegs around.
John describes his job as a stroke of good luck. "The product is spectacular, the team is delightful, and our customer base is awesome," he says. "I've worked in a lot of bars, and this is the nicest crowd I've ever been around."