Originally posted on Star Tribune on March 7, 2022
A chance meeting between two women brewers at an industry event a few years back has led to big things for Minnesota's women brewers — and beer lovers.
"The initial conversation was along the lines of 'I only know of four women in the state that brew, do you know any more?' " said Jordan Nordby, lead brewer at Utepils Brewery in Minneapolis. "And a year later that turned into 'Let's find as many women brewers as we can and bring them all together to make a beer.' So that's what we did. We have now found about 25 women in the state that are actively brewing."
For three years, the group has been meeting at different breweries to collaborate on a beer for International Women's Day on March 8. This year, the group came to Utepils, and the result is the limited release In All Places.
How do the tastes and styles of a large group of brewers come together in one beer? Collaboratively.
"The hosting brewery gets to decide the style of beer that is being brewed since they know what they will be able to sell to their customer base," Nordby said. The brewer drafts the initial recipe, and others weigh in with feedback on the overall concept of the beer, from taste to naming and label design. On brew day, the women convene to help create the beer while learning about the hosting brewery's equipment and processes.
"We are trying to have brew days two times a year to keep building those relationships," Nordby said.
In All Places — a brown ale that's malty, nutty and biscuity with a touch of sweetness — comes with a nod to its purpose: "Every sip of this delicious beer is a reminder that women belong in all places decisions are made." The beer will debut March 8 in the Utepils taproom at an event featuring live music, raffle and a supply drive for a women's shelter. In All Places also will be available in liquor stores and restaurants; check the "find our beer" page on utepilsbrewing.com.
But that effort isn't the only one.
The women of Lift Bridge, led by lab technician Bailey Larson, have released Free the Bibs, its seventh annual beer for International Women's Day — and the first Dunkelweizen-style beer for the Stillwater brewery.
The beer also was created to raise awareness of women's role in the beer industry, notably that men aren't the only ones "wearing the pants" in brewhouses.
The limited-release beer is on tap at and in crowlers at the brewery, with a portion of the proceeds going to Valley Outreach, a Stillwater nonprofit that provides food, clothing and support to those in need.
And Modist Brewing in Minneapolis is among the breweries worldwide participating in the brewing of Brave Noise Pale Ale, a collaborative effort to provide inclusive and safe environments for women, BIPOC and LGBTQIA+ throughout the beer industry.
International Women's Day, first celebrated in 1911, is a global celebration marking the economic, political and social achievements of women.
Collecting presents for all of our furry friends for the holidays, and delivering them to a local animal shelter and rescue.
Utepils was proud to hold a month-long toy and food drive, helping make the holidays bright for Twin Cities children and their families!
4 restaurants come together for 4 months to create 4 unique burgers and donate to 4 different charities! Beef, burgers and giving back. What could be better?
What's bigger than a pivot? A revolution perhaps? I think that's the right word. One meaning is a massive overturning or change and the other implies a regular path of changes returning to the starting point. Both fit Utepils at this moment.
Just as the earth revolves on its regular path around the sun, the seasons occur and we look forward to the next set of traditions. As the supplies of Receptional Fest Bier dwindle, the dirndls and lederhosen get safely packed away, and the last tents of Oktoberfest parties come down. We can now anticipate the beers and parties of winter. As we savor our last steins of Fest Bier, at Utepils we know Eric & his team have Loonar Eclipse, Minnator, and the new Decision Fatigue in the tanks. That seasonal rhythm of brewing has us ready. We're ready to enjoy Halloween, Thanksgiving, Christmas and the other holidays of winter. It's both reassuring and exciting.
The other revolution – a massive overturning or change is one we are thinking of as we approach winter as hardy Minnesotans (and yes, Wisconsinites, and some North Dakotans). We're ready for the transformation of our summer green to winter white. Yet, it also includes the reality that COVID is not done with us and many changes to our behavior, economics, and our psyches have not fully played out.
COVID changed our social gatherings and with that our way of consuming beer. Thank goodness it didn't change our thirst for social gatherings and delicious beer, just how we do it.
At Utepils we recognized this early and pivoted from filling kegs to putting almost all beer into 16 oz cans for sale at liquor stores. While we've seen the slow return of bars and restaurants, beer sales continue to reflect less consumption at bars & restaurants and more at private gatherings. Finding 16oz cans has been a showcase of supply chain issues. Joyously we took delivery on a semi-trailer load of Helles cans recently yet are keenly aware we had ordered them last Thanksgiving. Normally an order like that would have been 6-12 weeks.
To ensure you could count on finding your favorite Utepils beers when you hit the store, we committed to a small revolution in our packaging last summer.
Starting in November, look for a transformation in what you see and what grab to bring home. Inside is still the same indescribably good beer. Outside instead of hard to recycle plastic carriers, you will gradually see our cans in visually bold cardboard - easy to recycle.
With our new packaging machinery, we also saw the opportunity to fill a gap in liquor stores; twelve packs of delicious easy drinking beers in 12 oz cans. Now you have a chance to grab a twelve pack of Skolsch for that tailgating party.
Minnesota craft breweries have to an unusual degree jumped on the 16oz can. While it's my favorite for many practical business reasons and I like a big glass of beer, for many people they prefer grabbing a 12 oz can. Who are we to deny them? In most places we travel craft beer is pretty evenly available in both sizes, yet here, craft 12 packs have been dominated by the largest non-MN craft brewers. Utepils is aiming to be that Minnesota brewed craft 12 pack!
New look, new package, new size, let's also sneak in a new beer in the 12oz Mix pack. One more result of COVID is that many of us are tired. Too tired to make decision after decision. Our new beer reflects that feeling - It's literally called Decision Fatigue. That name bounced around our beer naming meetings for years…because contrary to popular belief, beer naming is the worst part of brewing a new beer. Sure, it's fun around the campfire or bar table, but when its for real with trademark issues, alternative meanings of words, differing opinions….blah blah blah we kept getting Decision Fatigue. Now you can too.
Revolutions need a central point just as our orbit around the sun. At Utepils, our guiding point to any change is our commitment to create delicious traditional styled beers that have stood the test of time and have persisted through many dramatic cultural changes. The constant is our human desire to gather with friends & family to tell stories, to drink our favorite beverages and dream of a future with more of the same.
Thank you for supporting Utepils, being our fans and advocates, and for saying with your actions and words you get and appreciate what we're trying to do.
Dan & Deb Justesen
Oktoberfest began as a wedding reception, and we believe it's important to keep that tradition alive. Every year we kick off Oktoberfest with a vow renewal and allow people of all ages to celebrate the end of summer and the beginning of fall!
Join us this weekend of September 24th & 25th for one last 2021 Oktoberfest celebration.
Clink them and drink them!
We were hoping that Delta would be taking us off to Germany soon and instead Delta, the variant of COVID has us grounded and focused on making the best of life in Minnesota. To be clear, we will do our next Beertrip to Europe in 2022.
Oktoberfest is the annual replay of the wedding celebration of Crown Prince Ludwig of Bavaria and Princess Therese von Sachsen-Hildburghausen in 1810. It's not just a wild beer drinking party, it's a wild beer drinking wedding reception. That is why our Fest Bier is called Receptional; not just because it rhymes with exceptional.
And, that raises the question of why is it a Fest Bier and not an Oktoberfest beer? Originally an Oktoberfest beer was brewed in the marzen style; a strong rich malty amber brew brewed in the spring to last all summer until brewing resumed in cool fall weather. Then in the 1950's the Munich brewery Paulaner introduced a new style for the Fest which was lighter in color with a clean dry taste that is quite easy to drink in large size glassware. By 1990 it became the official beer style of the event. While most American breweries continue to brew a marzen style beer for their seasonal fall release, we chose to skew our Receptional to the Fest Bier style. We hope you agree it is a great choice.
September is the month of love and Fest Bier.  During the first weekend of our Oktoberfest, we have a special tradition; the Renewal of Vows. Bring your special someone to Utepils on Saturday, September 18th by 11am and be a part of our non-denominational ceremony of love and commitment. At every one since 2017, I have teared up watching. And in 2020 I even got the courage up and asked Deb. She said yes.
Get your lederhosen and dirndls out of storage and prepare for a busy month. Start off super authentic with Oktoberfest at the German American Institute (GAI) in St Paul on Friday and Saturday (September 10-11). Then you get two weekends of O'fest fun here at Utepils. Take a weekend off to shop our Craftmarket and then come back strong with the 11th annual Twin Cities Oktoberfest at the MN State Fair grounds on October 10-11. Best of all you can enjoy Utepils beers at all of these events. Embrace the season!
We've always loved September and the cooling weather; Oktoberfest just makes it better. Between hurricanes, forest fires, and a pandemic, I think all of us have reset our life priorities. We hope you are able to enjoy time with family and friends.
Prost!
Dan & Deb Justesen
On Tuesday, our beer distribution company rolled a large semi-trailer up to our loading dock and took away a large load of kegs all destined for various accounts at the MN State Fair. For us, it is a vivid reminder 2021 is well over half over and an exciting bullet point of the return of at least some things from 2019.
It was exciting to believe that at the of 2020, everything would simply bounce back. With the Delta variant of COVID quickly spreading, and knowing even vaccinated people can get COVID and spread it to others, you will see masks again at Utepils. Our staff are required to wear them while working with customers and we are, currently, asking all patrons to please bring a mask and use it while interacting
with our team.
As you've read above, we also continue to create fun events at our Taproom.
With the first falling leaves in the Beer Garden, we are reminded to plan for the coming winter! We'll once again embrace our Winter Garden idea and are talking about ideas of how to make it bigger, more fun, and more welcoming for you and your friends. I can also share that we've asked our team to bring new beers to market this fall and winter. More news to come.
While out of sight from most of our guests, we continue to invest in new equipment for our brewing department to improve quality, shelf life, and add packaging flexibility to our canning operation. The last is important because of the challenges of keeping supplies of empty cans to fill – which is a good problem to have. Thank you all for your ongoing support of Utepils at local liquor stores.
Geistoberfest Beer Trip Update: We've set the dates, October 1 st to 11 th , 2021. We've chosen almost all the exciting places we will visit. What we are still locking down are accommodations & logistics of getting around. We're also watching how COVID is impacting travel to Europe. If we can move forward, I will send out a separate email and we publish on our social media channels the details including costs.
Our goal is fun. If makes sense to wait until 2022, we'll wait. Europe will still be there and so will the beer. Whatever happens, please know that we know fun comes from being relaxed and that comes from feeling safe.
We will continue to keep your interactions with Utepils an indescribably good experience whether here at Utepils or wherever you choose to enjoy it.
Thank you again for your business and good vibes you send us.
Dan & Deb Justesen

In an exciting sign of our confidence in the COVID vaccinations, Deb & I are planning the return of our annual hosted Beer Trip to Europe. We've worked with our friend Mike since 2006 creating exciting, informative, and friend-making "great trips made better with beer." Beer and food are immersive ways to experience local history and culture. We've led numerous trips to Bavaria, Czech Republic, Ireland, Italy, and Belgium.
That was interrupted in 2020. Our planned trip to either Italy or Spain ended at the planning stage.
Our plan is to resume our usual offering in 2022 with a trip to Italy in autumn or Ireland mid-summer. Take a look at BeerTrips.com for examples of past itineraries… and see photos of Deb and I with less gray hair (for me not her, hers is still full of color).  Read about some of our 2017 Beer Trip to the Czech Republic at https://utepils-2023.flywheelsites.com/2017/09/lovin-cesky-krumlov/
Geistoberfest???  Mike has offered to create a unique Bavarian centered trip in early October (2021) using his and my unique contacts if there are enough people ready to go now. Germany is opening up yet major events like Oktoberfest have been canceled. We see an opportunity to avoid major tourist crowds and seek out some off the beaten track fun. Let's explore Bamberg, Rothenberg, Nuremburg, Eck, & perhaps visit Neuschwanstein. I'm seeing a backpack full of Utepils beer cans getting opened on the Weizen, site of O'fest, to toast to what's been lost. We need about a dozen people to make this feasible. I have four commitments already.
What to do?  Send me an email at beertrip@utepilsbrewing.com and let me know you have a strong interest in Geistoberfest or even the 2022 trip ideas. Deb & I love all of the destinations so we go where enough of you want to go.  I'm not asking for a commitment.  That would be crazy as we have no itinerary, cost, or exact dates. To spend time creating all of that, we need to know there is an audience ready to say yes if the details work. If 2022 sounds best, let me know if you want Ireland or Italy, we'll pick the one with the best level of interest. Again, please email with your thoughts, dream trip or "maybe next year" or "I want to go to Italy" or "I'm ready to go this year once I hear the details" as all answers are helpful.
It's exciting to think about big things like a dream trip to Europe, yet day to day we love that the Taproom & Beer Garden are full of smiling faces; telling stories to friends over a beer. It's why we started Utepils, it's why we continue to create events to invite you to visit, and it's why we keep brewing & packaging our beers for you to enjoy wherever you may be. Those indescribably good moments deserve indescribably good beer.
Thank you for your continued support and Cheers!
Dan & Deb Justesen
We can't always explain what makes our Beer, Taproom and Beer Garden so special.
They are simply indescribably good.
We hope you get a chance to visit soon and experience them for yourself!
https://youtu.be/YujZRDwpb2E
*Thanks to @melaniefeatherstone for the awesome video*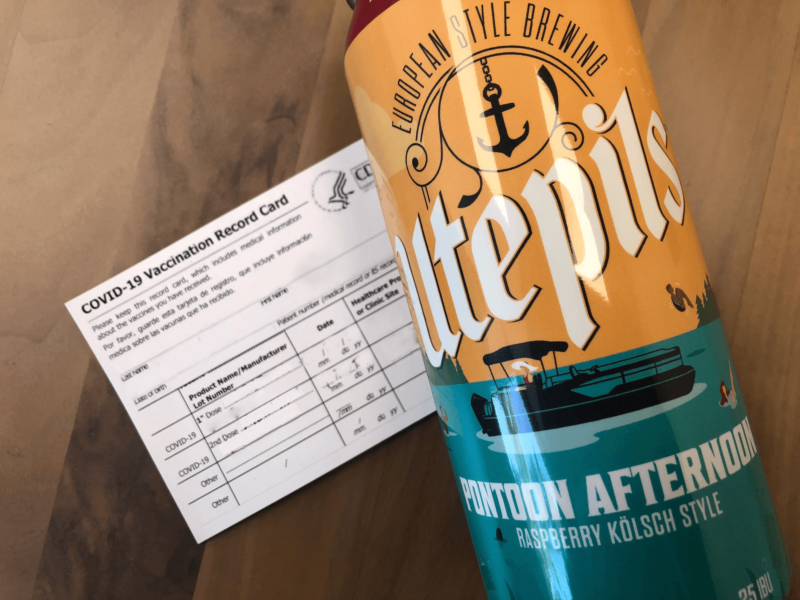 We were proud to participate in the effort to get more Minnesotans vaccinated! We partnered with Minnesota Governor Tim Walz (D) and Daniel Jacobs of Bald Man Brewing to give away over 1,000 beers in less than a week to fully vaccinated people who presented their card.
"I just think the whole goal of what we've done from the beginning is to try to create an environment where people feel safe because if they feel safe then they can relax, and it's only when you relax that you can start to have fun," said Dan Justesen, owner of Utepils Brewing in Minneapolis.
Read the full article here.
May turned out to be an amazing month with great weather for getting out with friends. We are excited to see our friends in the hospitality business continue to open, expand their hours, and hire more people.
Grab some four packs and enjoy your Utepils moments where your travels take you. Our summer seasonal Pontoon Afternoon is not only delicious, it's a suggestion.
May also was a banner month for our Beer Garden and Taproom. Thank you! We continue to see a growing awareness or perhaps the proper word is "discovery" by many new fans of how "indescribably good" a visit feels. You will start to see more uses of that phrase as we've adopted it as our marketing theme going forward. It's an acceptance that Utepils is about those good feelings you have enjoying our delicious beer and that the moments it creates are just hard to put into words.
Fruhlings Fest was an exciting success and proof that our team is ready to help you "rock the lot" with a series of larger scale events this year. The team's next event out in our front lot will be the Summer MRKT which is more local crafts than local music. Come check it out.
The rules are changing in Minnesota which is exciting proof that the vaccines are extremely effective. If you are fully vaccinated, it's a liberating moment.
Please remember that Utepils wants to keep our guests and our team safe. Thus, our staff will have a personal choice whether they continue to wear a mask while on duty. We appreciate your acceptance of their decisions.
Let's party like it's 2021!
Thank you for your support.
Dan & Deb Justesen
Steadily as more and more of us get vaccinated, we're emerging into the sunshine from our long dark COVID winter and it's time to renew friendships in person. We are excited to offer plenty of new events & the return of many of our most popular. As always, we evaluate the best way to make sure each one is done with COVID safety for you and our staff.
Bars and restaurants are starting to open or at least making plans to open in June. It's an exciting time. Please enjoy our beers when you choose to get out and about. And as our marketing guy, Ken, always says, "if you don't see it, ask for it by name: Utepils."
Everyone in hospitality is optimistic about making progress while fearing another setback. It's only natural, yet it's the underlying reality that the hospitality industry is filled with cynical optimists right now. We're Charlie Brown running to kick that football Lucy is holding.
Thus, we're filling the calendar with events large and small both in the Taproom and a series of large live music centered fests in our big parking lot. First up is Fruhlings Fest which is German for Spring celebration. If all goes as planned, we have events every month all summer long. Let's make 2021 the year of getting back to normal.
Whether you see us here at Utepils or out at one of the many retailers serving our products, please say hello. Deb and I are trying to get out and about saying thank you to our retailers and to you for all the support over these challenging times.
Cheers,
Dan & Deb Justesen
One year later we still are a COVID limited business. Our Taproom is at 50% capacity. Our distribution of canned beers is strong but draft keg sales are still tiny as our partners in the hospitality industry remain shuttered or struggling at partial capacity. Without government aid from all levels, many of us would have disappeared and many have.
My ask is simple. I am asking that you take a few seconds to help thousands of Minnesota hospitality businesses including Utepils. All of the beer we create is either sold in our Taproom or it is transported out via our distribution partners to retail liquor stores, bars, restaurants, stadiums, and music venues. We need our entire hospitality ecosystem to survive and then to thrive!
Almost all of them are hurting or closed by the pandemic. During this session of the MN Legislature, a first ever coalition of craft beer, farm wineries, and craft distilleries banded together as the MN Craft Beverage Council. Combined with support from Hospitality MN and the Minnesota Independent Restaurants, a unified bill was created and introduced to the MN Legislature. It would allow these varied businesses more flexibility to support themselves by selling products versus depending upon more government aid for survival.
To help, click here to send a message to your legislators: https://www.votervoice.net/MNCraftBrew/Campaigns/79364/Respond
It includes simple things like letting the only six breweries in the USA that can't sell growlers, to sell growlers.
It would let craft distilleries sell you a full-size bottle of their product. It would have MN tax law conform to Federal standards for our farm wineries.  And it let you buy a four pack of our beer at our Taproom instead of a glass growler if you wanted to.
These are not unusual changes, in fact, Minnesota's laws are some of the most restrictive in the country. Occasional band-aids every once in a while, such as the change to allow Brewery Taprooms (the Surly bill) transformed Minnesota's previously very limited brewing industry to one with nearly 200 breweries in small towns & big cities that employ thousands of our neighbors.
Learn more about what is in the bill here: https://mncraftbevcouncil.org/our-bill/

The bill has bi-partisan support. In fact it has the most support of any recent attempt to change the rules to help the hospitality industry. Yet, to get to first base, we need the bill heard in committee and for that we need a huge public outcry.
If you agree; PLEASE take 30 seconds and send your "cry" to your legislator right now. Yes, right now! You can reward yourself with a craft beer later. Click on the link below and do it right now. Under the rules, a single Legislator can stop a bill if they are the Chairperson of the committee by simply not allowing the bill to have a hearing. There is no debate. There is no vote. There is no consideration of the merits. Of course, there are other routes but they are immensely more difficult. Right now, we don't need more "difficult"!  We need a fair hearing and a vote.
Click this link to send your cry out! https://www.votervoice.net/MNCraftBrew/Campaigns/79364/Respond
Be active on Social Media. Use the hashtag #DrinkLocalMN when you post and react by Liking and Sharing, Retweeting, etc when you see others use the tag. That action encourages other to take similiar action. Just like it's more fun to drink with friends than alone.
If you don't agree, we understand and appreciate your support via your purchase of our beer here and at your favorite store or place for a good beer.
In full disclosure, there are two more bills that we will request you also support when they come up:
1. Bring MN's tax treatment of PPP loans in line with the Federal government. Taxing loans intended to save struggling businesses as income is short sighted.
2. A bill is in the works to compensate businesses that had to dump beer or other food products due to the government ordered COVID shutdowns. This applies to breweries like Utepils, distribution companies and retail establishments. It would also allow for re-imbursement for expenses to comply with COVID rules such as sanitizer, signage, etc.
As the days grow warmer and the sun shines longer, we can feel optimism that vaccines are bringing us back to a new happier new normal. Perhaps this is the new COVID era meaning of "Utepils".
"The joy of having a beer with friends out in the sunshine after a long dark and scary pandemic."
With your help, Utepils and many other hospitality employers and employees will be here to serve up that beer to you. Thank you again for the support you have shown with your email responses, friendly waves in the Taproom, and continued enjoyment of our beers in your own bubble or pod.
Normally I sign these with the names of everyone who works at Utepils. Due to the topic being a little political, I will keep it to my wife and I. Just know if this bill passes it will help everyone working here.
Thank you for your past support and we look forward to enjoying the new pandemic meaning of Utepils with you.
Cheers,
Dan & Deb Justesen
Last Friday as I watched The Good Time Gals, a local duo playing jazz from the 1920's, perform in the Winter Beer Garden, a young lady stepped over and asked "are you Dan & Deb?"  "Well, I'm Dan of Dan & Deb." I replied. She explained how she really appreciated the personal tone of our recent emails and how connected it made her feel to Utepils.
I thanked her and replied that we wanted to let people know that we're just a bunch of people trying to keep a business alive and our team working. Her sharing her appreciation helped me feel comfortable with the tone we've been taking recently.
We hope you feel the same way about these more personal messages.
There are many things we should say "Thank You" to all of you for, yet one jumps out to me.
Thank you to everyone who responded to our requests to contact your government leaders about the dire impacts on the hospitality industry. You did, and it WORKED!  Both the Federal and State leaders reacted to the public and enacted programs to help. Did they do enough? We'll see. In the end, we need vaccines out of boxes and into bodies to really change the business dynamic.
Another reality; we'll ask again. This coming session of the MN Legislature, they need to finally address some of the archaic and unusual laws that put MN breweries at competitive disadvantages to our competition coming from other states. More information will be shared soon via our emails and in social media from many craft beverage producers. We hope you'll speak out then. Meanwhile, relax and have a beer.
Which brings me to Indoor Service at Utepils Brewing. You are cordially invited to come on in!
Our Taproom is a unique environment with space for nearly 100 people with everyone seated at a table and properly spaced. Our staff continue to follow our COVID safety protocols and our signs clearly communicate how to have fun while feeling safe. Each party, whether an individual or a group of up to six, is given instruction by a staff member on our rules. Our house, our rules. Please respect our staff and accept that as a given.
Unlike many smaller Taprooms, we also have an enormous interior volume of air as the brewery production area is not walled off. That means we have over 400,000 cubic feet of air constantly circulating by the ceiling fans and through our HVAC system. Our HVAC system was upgraded in 2020, through a grant from Hennepin County, with advanced technology that helps remove pathogens in the air including viruses. It is perfect? No, but again, it's the best we can do to improve safety for both you and our staff.
We strive to give you choices so you can have Utepils Your Way. Everyone has a different comfort level. Our beers are available in retailers across MN and parts of WI and ND. Hospitality businesses are starting to reopen and you can find us on tap at many of them. Remember, if you don't see it, ask for it by name – Utepils! You have impact as a customer. Let them know what you want.
As mentioned, you can also come visit us at the Brewery where you'll find more choices. You can take your favorite Utepils beer as "Beer2Go" in growlers or jars 7 days a week. In addition to the classics, you will find several Taproom only beers. The Brewers have been having fun so look for a few new ones to come out in the next few weeks.
If you would like to enjoy a pint or two with friends you have a few options. You can choose our outdoor Winter Beer Garden and embrace the Fresh Air, Warm Hands, Cold Beer Lifestyle. Recently featured on KARE 11 News, it has been discovered as the new "cool" place for our regulars and new friends alike. Or choose to sit inside the Taproom. For those not ready for winter outdoor beer drinking, we've created a safe, socially distanced indoor drinking experience. Please say hi to our new bartenders and our barbacks who are keeping the vibe going and the beers flowing.
As you might know, February is Utepils's Fourth Anniversary month and for that we must also say "THANK YOU"! Your support and purchases of our beers have helped us make it this far.
Stocking your fridge with a couple four packs and enjoying pints in our Winter Beer Garden and Taproom continue to be wonderfully helpful. We'd much rather sell beer than depend on government programs.
Watch for more information on our new special release beers and Anniversary events that will make February especially fun.
Hours for the Taproom & Winter Beer Garden:
Monday-Thursday: 3pm-10pm
Friday: Noon-10pm
Saturday: 11am-10pm
Sunday: 11am-8pm
Cheers,
Dan & Deb Justesen and all of the Utepils team:   Ava, Steve, Brady, Kim, Cole, Vince, Luke, Melanie, Landon, Eric, Tom, Andre, Taylor, George, Jeff, Raine, Brian, Frank, Jordan N, Morgan, John, Sonja, Charlie, Madison, Ken, Jessica, Dave, Kelly, Jordan W, and Terra
Want to make your Game Day experience a great one? Check out this segment with our friends at Twin Cities Live for some great tips!
Guests can expect cleaner, filtered air thanks to the recent installment of an advanced air purification technology, engineered by Global Plasma Solutions (GPS). In an ongoing effort to keep patrons and staff protected from the spread of COVID-19, we have invested in GPS's patented NPBI technology that works to clean air, break down viruses, mold, bacteria, and thus prevent the spread of pathogens—all within the Taproom's HVAC system. 
"We're going the extra mile to ensure everyone who visits our brewery can sit back, relax, and enjoy their time with us, without worrying about getting sick," said Dan Justesen, Founder of Utepils. "We're taking every precaution possible to keep our friends, family, staff and community safer by wearing facial masks, implementing sanitization stations, ramping up our cleaning routine, and social distancing, but this is an added measure that we feel strongly about. We want everyone who visits our Taproom to have access to cleaner, purified air."
Following suit with highly frequented institutions across the country, including airports and hospitals, we made the decision to invest in GPS's air purifying technology to help improve air quality and create a safer experience for visiting guests and staff. 
The technology works by releasing ions into the air that weaken harmful substances: "The patented technology uses an electronic charge to create a plasma field filled with a high concentration of [positive] and [negative] ions...The ions kill pathogens by robbing them of life-sustaining hydrogen (from the GPS website).
The non-invasive, purifying technology allows ions to filter the air from our building's HVAC system in order to clean both large and smaller spaces without disturbing the experience of patrons of staff or guests. 
"It's hard to have fun if you don't feel safe.  We feel this is a smart investment, as it provides an extra layer of protection and comfort for our favorite brewery goers," continued Justesen. "We want people to feel confident about leaving the house to visit their friends and enjoy a fresh beer at our establishment. And we will continue to invest in ways that protect our community and keep our guests and staff healthy!"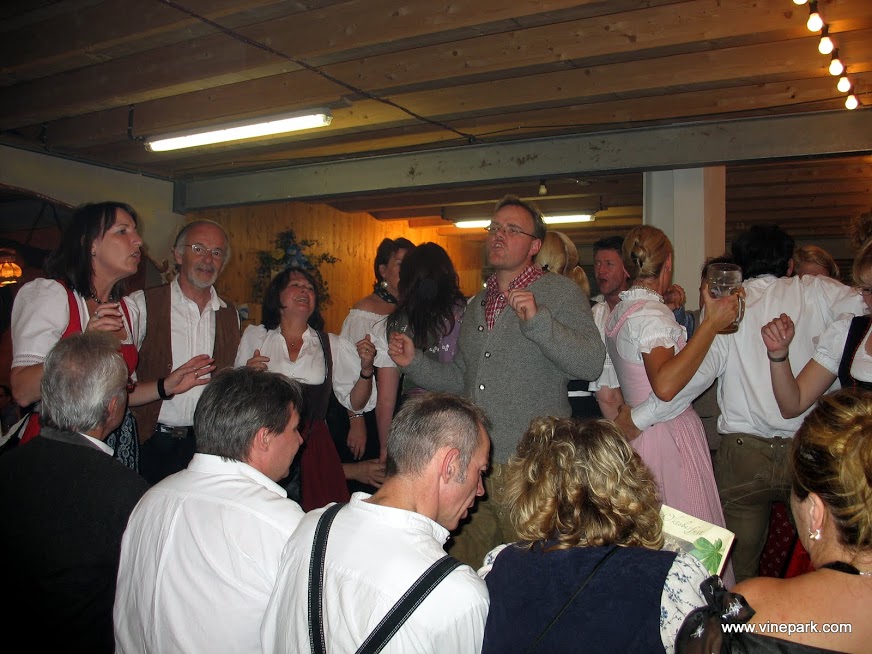 "I'm on the highway to hell, …"
One of the best parts of traveling is upended expectations. For me, it seems to happen with every trip to somewhere new. Perhaps that says more about me than the destination.
As a native Minnesotan, I had been to many local Oktoberfest events as I'm sure you have, too.  A few odd characters in Bavarian outfits, large steins of imported beer, and an oompah band playing polka are the key aspects of those experiences.
Our First Trip to Munich, Germany
Memories of Munich's Oktoberfest can be hazy—large steins of German beer are still a key aspect of the original O'fest. Upon arriving in Munich, Deb and I decided on our first night to just have a nice dinner and walk around to help reset our jet lag and visit O'fest during the next two days. As we left dinner, our stroll took us near the Festwiese or Fest grounds. Like moths to a flame, we couldn't resist.
Being almost closing time, the crowds were headed away, and we rationalized that we might take a peek and maybe, just maybe, find a seat in a tent. Upon entering the first tent we came upon, the band immediately struck up AC/DC's "Highway to Hell" and five thousand inebriated world travelers and Germans on benches sang along in English at the top of their lungs. We joined in.  I can't hear that song now without flashing back to that moment.
Oktoberfest in America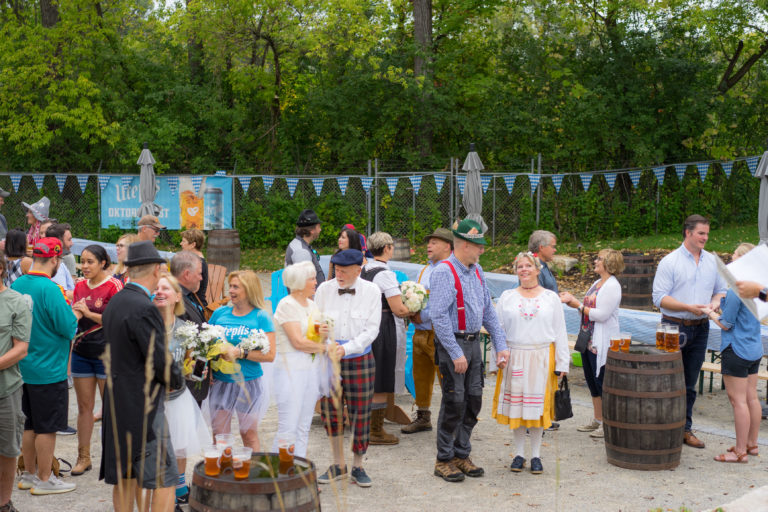 Oktoberfest in the USA is stuck in the time warp (again…sorry could not help myself. Young people, Google it.). The great migration of Germans peaked in the 1920s, and they brought their customs with them. They recreated their fests and holidays as they remembered them. In Germany, change rolled right along. It's a musically diverse giant drinking fest. Sure, while you hear old songs sprinkled in, it's primarily sing-along songs. And you'd better know the lyrics to John Denver's "Country Roads" if you want to fit in.
It's the same with the beer! American brewers mostly create Oktoberfest beers in the Marzen style as that was the trend before the 1920s. We created our Oktoberfest beer, Receptional, as the modern Festbier style that is still served in the big tents since the early 1920s; lighter in color and alcohol, it's more subtly smooth and easier to drink in those very large steins—thus helping beer sales.
And what's with that name and design of Receptional? 
Well, what's the reason for Oktoberfest? Most Americans will say "ahh, I don't know…harvest festival? Nope! 
The Real Reason for Oktoberfest
Oktoberfest is the annual recreation of the wedding reception of Prince Ludwig of Bavaria and his bride, Therese of Saxe-Hildburghausen. So, it's not just a drinking party; it's better. It's a wild drinking wedding reception. And thus, our exceptional Receptional Festbier!
And this leads to my favorite memories of Oktoberfest at Utepils. No, it's not the formal ceremony of our Brewmaster tapping the 1st keg. No, it's not the crazy stein holding contests. It's not even wearing my lederhosen all day.
Before we hold steins, before we tap the keg, we honor the reason.  
Each year we offer couples a chance to say "I'd do it again." Thirty to fifty couples of all races, ages, denominations, and orientations arrive early to our Beer Garden and renew their vows to each other.  Contrary to our fears and some expectations, this has been a beautiful and memorable event for all who participate and for those who bear witness. I suspect there are few dry eyes in the Beer Garden by the end. And then we tap the keg and celebrate.
The best memories are the surprises that delight.
Enjoy Some Exceptional Receptional Festbier
Delight yourself with our Receptional Festbier in liquor stores near you now and on draft in our Taproom & Beer Garden! Here for only a short time and time flies!  
Mark your calendar for the Utepils Oktoberfest on September 19th (reservations are available now). Vow renewal, big steins of beer, wearing your lederhosen & dirndls, lots of live music are back.  
Just no clinking of glassware or swaying in long rows of new friends; we're committed to having a fun and safe Oktoberfest. Limited reservations available – book by September 12th. 
We now live in the age of COVID and many aspects of our lives have changed.  Utepils has changed and yet not changed.  We still believe that all of us, as human beings, have core values and desires: we want to engage with our friends, family, and community.  We seek a chance to enjoy a beer and talk about life or sports or whatever.   And we do that best of all outside by a creek with the birds calling.
While our Taproom and Beer Garden closed in mid-March, Utepils has continued to brew beer and bring it to the liquor stores across Minnesota.  Sadly, many of our staff were furloughed.  Production and some sales staff returned and this weekend our Taproom staff are finally coming back.
Starting June 1st, Utepils Brewing's amazing creekside Beer Garden will re-open in our traditional way; a bagpiper leading us.  We are limited to fifty people and everyone must have a reservation.  Book yours today at utepilsbrewing.com – works on computers or smart phones.
Utepils by definition is about your individual experience.  We're committed to offering you choices.  Everyone has a different comfort level on venturing out and we respect that.
How You Can Enjoy Utepils 
Beer Garden (and eventually our Taproom) in groups up to four or a household of six

Your favorite restaurants & bars if they have re-opened can serve our beers

Beer2Go is available to pick up at our Brewery; pre-order or drive up

Your favorite liquor store; whether you visit in person or order delivery.
Our team has added new products such as our hit Plaid Bikini Summer Wheat.  A variation of our best-selling Ewald the Golden, PB is filtered to a brilliant yellow reducing the clove and accentuating the berry aromas of the new hop variety called Callista and the familiar banana of Ewald.  #YUM
"Savor The Summer" samplers of eight cans and four varieties of our beer are arriving in liquor stores now.  Enjoy Plaid Bikini, Ewald the Golden, Skolsch, and…yes!!! Tall Tales IPA is back and included!
If you follow our social media accounts, you know our staff has gotten a bit wild and crazy doing limited edition "one off" beers each week for our Beer2Go offerings.  Beers such as Cuppa Alt (a coffee Alt 1848 blend) or last week's The Carlton, a mango orange Kölsch.  We're traditional yet we love to have fun.  And we've added 750ml "jars" to go.  Like a can crowler but better; it's re-sealable, it's re-useable, it's dang cute, and it actually works well as a drinking vessel.
You will find many changes at Utepils yet we're keeping the same attitudes and commitments.  To be a world class brewery that makes delicious beers yet sells experiences you want to repeat.  Our changes will continue as we adapt and improve.  These changes are to ensure a safe and pleasant experience for you as our patron and our staff.  We ask that you work with us.  Share your feedback both good and bad so we can adapt and improve.
Be kind.  All of us and everyone sharing your Utepils moments are living in a world full of stress.
A brewer's work is often described as 98% cleaning and sanitation.  Our business is creating safe products from a sweet wort via an opportunist biological entity; brewers' yeast and only brewers' yeast.  We've always taken this seriously and we've enhanced our procedures due to COVID.  These include but are not limited to wiping down with sanitizer all tables & chairs between reservations, social distancing measures, health screenings, more frequent bathroom cleanings and sanitized styluses at check out.
Please make a reservation, check in with our host, and follow all posted rules.  When in doubt, please ask us.  Bring a mask with you to Utepils.  While outside, you are not required to use it.  When you are inside to check in with the host, to use the bathrooms, to buy/pick up a growler, or if a storm blows up and we provide you shelter inside, you will need it.
We look forward to expanding our time together whether here at Utepils, in your fishing boat as you open a four pack, or when you enjoy a cold Utepils at your favorite bar.  We also anticipate that the rules will change over time; we'll be able to increase our capacity both outdoors and indoors.  We could choose to be upset that right now we can only have fifty people here or we can look at as a time to learn and perfect how we operate in this new reality.  And, we can finally get together again with fifty of our favorite customers.
More information – Booking a Reservation – Find our Beer – Pre-order Beer2Go all happen at utepilsbrewing.com

Thank you, stay safe, and enjoy your Utepils moments your way,
Dan & Deb Justesen
Everyday our staff strives to create great experiences here in our taproom and delicious beer for sale across Minnesota and soon Wisconsin and North Dakota. Our team has always been trained and expected to follow strict hygiene rules, and a brewer's job is often said to be 90% cleaning and sanitizing.
When you visit Utepils, we want to ensure you always feel safe and enjoy your time with us. To achieve this, we wanted to provide our loyal patrons with the following steps that we're taking to practice prevention at our brewery:
When you visit our taproom, you'll find hand sanitizing stations located throughout the area. We recommend using the toe pulls on our bathroom doors to avoid touching communal surfaces. Most importantly, we also ask that every patron please wash your hands and understand if we don't offer to shake your hand—let's help start a shift to "jazz hands" or elbow bumps instead.

Our taproom uses high temperature washer/sanitizers that kill viruses on all of our glassware. And our table layout has been reconfigured to create more social distance. If you prefer to use a one-time plastic glass, just ask our bartenders, and they will be happy to assist.

We will monitor our taproom and beer garden to ensure no overcrowding.

It's an economic reality that local businesses will be heavily affected by this pandemic. We intend to keep our taproom and staff working by being open on our regular schedule. And our staff is committed to producing packaged products delivered by our distribution partners and sold by retailers to meet your needs if you choose to spend less time in public spaces.
Take Utepils Home with You
Many patrons may be working from home or staying in on weekends to help minimize contact during this time, and though it seems a bit self-interested to say it, having a supply of Utepils beer on hand may improve that time spent at home. Frozen pizzas and Netflix only go so far. If you're planning to stock up and stay in, be sure to visit one of your local retainers to find Utepils' selection of European-style beers.
Everyone working in the supply chain will appreciate your business, whether you stop in for a pint or purchase our beers at a local retailer. And this appreciation goes all the way back to the farmers growing the malt and hops to the delivery truck drivers and all of the people working at Utepils.
If your favorite retailer has run out, please check our Find Our Beer search engine to find another nearby location.
A Final Note from Your Friends at Utepils
Our team is constantly evaluating our procedures, and as we learn more, we'll do more to ensure your time spent with us is safe and enjoyable. Our team is committed to it. We are all in this together. Remember to keep washing your hands and please stay home if you feel sick. We promise to do the same.
Thank you,
Dan Justesen
Minnesotans like their beer. They love drinking it and talking about it and it's no surprise that the craft brewing industry does really well. For some brewers--it's almost too well.........
European-inspired brewery, Utepils Brewing and Cowboy Jack's Saloon and Restaurant are pleased to announce their partnership to create a new Jack's IPA recipe. Beginning Monday, January 6, 2020, patrons can enjoy a fresh pint of Jack's IPA at Utepils Brewing taproom and all participating Cowboy Jack's locations in Minnesota. 
To kick off the New Year and new collaboration, Utepils will be hosting a launch party on Wednesday, January 8, 2020 at "The Barn," located at the Cowboy Jack's Downtown Minneapolis at 126 N. 5th St, Minneapolis, MN 55403 from 6-10pm. As part of the special celebration, there will be an Utepils tap takeover, allowing guests to enjoy the new Jack's IPA, as well as other classic beers the local brewery is known for. 
Northland Vodka will also be in attendance with their new product that will hit Cowboy Jack's Saloon and Restaurant locations on January 6, 2020, as well. 
In addition, to help top off the night's celebration, there will be a special live performance by "Fookey". This heavy metal band consists of Chris Hawkey, Mark Parrish, and Pete Bercich, as well as other musicians.
To enjoy all the fun and excitement this special launch party has to offer, patrons must first win tickets. All tickets will be given away through the following social channels: Cowboy Jack's, Utepils Brewing, and Northland Vodka. Guests can also win tickets by listening to KFAN 100.3FM. To win VIP tickets to the launch party, guests are encouraged to listen to The Power Trip Morning Show from 5:30-9 a.m. Monday through Friday.
Utepils Brewing and iHeartMedia Minneapolis's FM 100.3 KFAN, The Twin Cities Sports Leader, have teamed up to launch KFAN Unfiltered Blonde Ale, a European-style beer made in honor of Minnesota sports fans. The new beer will make its debut on Friday, September 13.
In conjunction with the beer launch, Utepils Brewing invites patrons to visit the brewery on September 13 to try KFAN Unfiltered Blonde Ale. The new beer provides listeners and fans with a careful balance of soft malt and light bitterness as well as a rich unfiltered flavor for friends to sip and enjoy as they discuss sports stats and predict which teams will make the playoffs.
"There's nothing better than bringing together award-winning, European-style beer along with award-winning sports radio to kick off the football season and create the ultimate fan experience," said Dan Justesen, Founder of Utepils. "We're starting a new tradition with Unfiltered Blonde Ale that's perfect for every season, no matter which team you're cheering for."
"KFAN has some of the most passionate and loyal listeners in the country," said Chad Abbott, Program Director for 100.3 KFAN. "Utepils Brewing has that same connection with their customers, so combining these strong brands to provide a true 'Rube Brew' is a great way to bring those passionate fans together."
We love working with our partners over at Sticker Mule! Their products are always high quality and the team is great to work with.
Pick up your Utepils sticker the next time you're in the taproom.
Join us every Thursday from 6 - 9:30 in Mears Park for live + local music, food trucks, Utepils beer and more!
See the full schedule and more event details on LowerTownSounds.com
Jeff McClure, the Director of Operations, stopped by WCCO to talk about the 2019 City Pages Beer Festival!
You can get your tickets to the 2019 City Pages Beer Festival here: 2019 City Pages Beer Festival Tickets
photo via: City Pages Beer Festival Facebook
We are thrilled to announce that B.R.D has been named one of Minnesota's best beers right now by MPR News!
Andrew Schmitt, a Minnesota BeerCast host said, "My favorite beer right now is B.R.D. from Utepils. A crisp, easy drinking traditional pale German lager that is perfect for ushering warmer weather. The beer is a welcome and 10% of the proceeds go to programs that support Minnesota veterans and their families who are homeless or at risk of becoming homeless."
Read the full article here: Minnesota's best beers right now, ranked by local brew experts
image via MPR
Utepils sat down with Minnesota Beer Cast to talk about the release of our new beer B.R.D. Listen to the podcast here or subscribe to the podcast via Apple or Android Podcasts.
Our owner, Dan Justesen, stopped by WCCO to chat about our new beer, B.R.D. and our partnership with MACV to help end veteran homelessness.